My two – very individual but with similar issues – children are approaching puberty. They're in that pre-teen or "tween" period, where I'm starting to notice that they need a little more assistance with their cleansing routines.
Both T and D have sensory issues and sensitive skin – the latter they've inherited from me – and so any additional products used have to be as natural and scent-free as possible, but effective.
We've been trialling out products from two separate companies over the past few weeks and here's our reviews below:
Firstly from Keep It Kind (KIK) we reviewed a deodorant range designed from 8-14 year olds.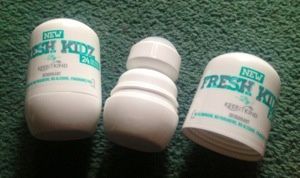 Here's some information from the website:

"Kind2Skin Limited, the company behind the Keep It Kind (KIK) deodorants was formed in 2011 with the primary goal of producing naturally based deodorants that provide effective odour protection for the pre-teen and early teen age groups. Not only was it essential to create a brand that parents could trust, but at the same time we wanted to design the range so kids would also want to use them… not an easy task, but we have done it!
With over 20 years of pharmaceutical experience our founders discovered that there was a huge need for a kid's deodorant range that simply wasn't being filled. Therefore they spent several years working closely with leading scientists and laboratories, developing what we believe is the 'best in class' range of deodorants that are formulated for younger, sensitive skins and are free from any potential harmful chemicals.
Our ultimate mission is to create a natural based range of personal hygiene and skincare products for kids aged 8 to 14 and we continue to research and develop new products that are ideal for the new youth generation."
The priority for me, as a parent, was the sensitive skin issue, together with the fact that there was no obvious scent to the product. Quite simply, if the deodorant had a strong scent, T and D would refuse to use it.
The fact that the deodorants are free from aluminium, parabens and alcohol are also bonuses, the products have not been tested on animals either.
T is very active with all his sports and D – who is approaching puberty faster – has a sports-filled week at school.
The deodorants have worked well for both of them, with no after effects sensitivity-wise.
The deodorants are available in Boots Stores nationwide and online at boots.com. RRP of £2.99 for the Fresh Kidz roll-on, other variations available.
Disclaimer: we were sent two roll-ons for the purpose of this review.
Secondly, D and I have been trialling products from Green People, a company recommended by so many people when I had a specific cleansing query associated with the onset of puberty – spotty backs.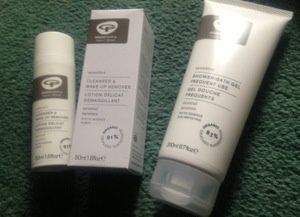 Here's some information from the website:
A pioneering brand established in 1997, Green People is the leader in certified organic body care products. With an extensive range of natural products – shampoos, face creams, sun lotions and body washes to name just a few – it is one of the biggest names in organic beauty in the UK.
However, it was started by a mother simply wanting to help her young daughter:
In 1994, 2-year-old Sandra was suffering from eczema and severe allergies. To relieve her obvious distress and itching, her mother, Charlotte Vøhtz, decided to get to the bottom of the problem.
Getting to the root of Sandra's allergies: personal care products
Charlotte discovered that many of Sandra's skin allergies were linked to chemical-based household and personal care products. This is because exposure to toxic chemicals causes a build-up in the body which can lead to allergies and sensitivities. Although steroid-based treatments were suggested, Charlotte did not want her daughter's skin to be exposed to such harsh chemicals and decided to look for natural skin care products instead.
However, when she started looking into what some of these products contained, she was dismayed to find that even those advertised as 'natural' could contain up to 99.9% synthetic chemicals.
Charlotte says: "From that moment, I realised that we all are children of the chemical age and that man-made chemicals found everywhere, combined with changing dietary habits, profoundly affect us all".
Did you know?
1 in 4 people now suffer from skin sensitivities or allergies
100,000 tonnes of man-made chemicals are used in so-called "natural" and "organic" cosmetic products each year
Up to 60% of a substance can be absorbed through the skin
Synthetic chemicals entering the skin bypass the liver and go straight into the bloodstream. They are not degraded unlike chemicals in food.
Many of these chemicals are known to be harmful in isolation
Synthetic chemicals accumulate in the body and are stored in organic and fatty tissues causing a cocktail effect that can lead to eczema, allergies and immune disorders
She was so impressed by the difference that her natural methods and home-made natural skin care products had made that she thought she should share her discoveries with others. So Green People was born.
"With a nursing background, knowledge of herbal medicine, and more than 11 years of experience within the pharmaceutical industry, I decided to take action," she says.
Green People are committed to offering products that are natural, gentle, organic and highly effective.
We will maintain our quest for excellence, creativity and innovation at all times, and will not compromise the quality of any Green People product.
None of our formulations or products are or ever have been tested on animals and most of our products are registered by the Vegan Society. All of our products are approved by the Vegetarian Society.
We believe that you have a fundamental right to know exactly what is contained in the products you are buying and therefore give full ingredient disclosure on all of our products.
We also support charities with related environmental concerns and each year 10% of our net profit is donated to charitable causes linked to 'green' or environmental issues.
The Green People team is a small group of dedicated people all working together for a healthier future and a less polluted world."
The first product we tried was the Shower/bath gel suitable for sensitive skin, retailing at £9.95 for a 200ml size.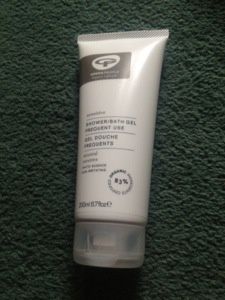 I'm very impressed with this gel, a little does go a long way! There is also no scent and it can also be used as a facial wash as well as a bath/shower gel.
The fact that it has no scent means that it can be used without affecting D's heightened sensory awareness. I'm noticing an improvement already in her back after a couple of weeks.
We were also sent a Scent-free Cleanser and Make-up Remover, which retails at £9.95 for a 50ml bottle.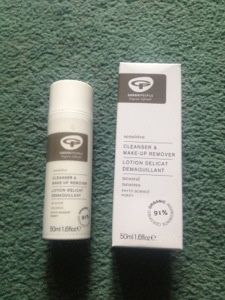 I've been using this for a couple of weeks and have had no adverse reactions. It's applied in small, circular movements and then washed off. Removing cosmetics easily.
Greenpeople.co.uk also do a scent-free sensitive skin range of sun care products, I'll be stocking up on those for when the good weather arrives, we've all reacted to sun care products in the past.
Disclaimer: we were sent bath/shower gel and cleansers to review in a very funky green gift tube.
---
---