As before, today's diary post is at the end of the blog.
Today's revisited post is below, Penny for your thoughts, I don't know what made me join twitter in November 2011 but I'm so glad I did. Written in February last year, everything still rings so true.
Here it is:
Penny for your thoughts:
In a pensive frame of mind today. Now that I've been part of the twitter community for three months or so, it's take stock time.
When I first signed up on twitter, I started off by following my favourite singer (and teenage crush lol) – no I'm not naming! Then a writer who's work I always enjoyed reading. Left it like that for a while. Made one reply to a celeb's tweet and when I didn't get a reply, thought "humph, bit rude" it's only when you look at their profile and follower numbers that you realise they are probably absolutely bombarded by
replies every time they tweet. Even if it's something like "run out of milk".
And then you get a bit more confident, you start searching for people who share the same interests or, in my case, have children with autism. You reach out to them and they respond.
The first time I started have a twitter conversation with someone in the same boat, I remember thinking "is this for real, how does she know how I'm feeling – how scared I am for D's future, how much pride I take in the little achievements that she makes, how does she know?" You swap photos of your children and think "wow, I've found a kindred spirit here".
And then leads on to following more people, having more people following back. People that make you laugh with their antidotes and jokes, people who make you cry with their life stories, people (bless their souls) who aren't around any more due to the cruel and non-discriminating disease called cancer.
I changed my user name from Bluecrisps to reflect more of why I'm on twitter, I started blogging and am so pleased when someone comes back and reads it and says "yes, I identify" or "we've been through that and this is what we did".
None of us know what the future holds for our children and, if I'm being honest, the way the Government is trying to cut and disregard the disabled community really really scares me. Any parent of a special needs child has enough to worry about. We need to take notice of the Welfare Reform Bill and DMS5 proposals as it will affect a lot of our special needs community. Sign up for Pats Petition (now closed) if you haven't already, singularly we aren't powerful, put us together and we have a voice demanding to be heard.
I've unfollowed quite a few celebrities, I'm not interested if they've run out of milk anymore.
My only regret is that I miss out on the tweets from America, Australia etc because I'm asleep (if D let's me sleep that is).
So, to every one of you that reads this, thank you.
I am so grateful for every share, every RT, every comment. Truly.

Our day:
Poor D's been getting a bit confused as to what day of the week it is, in the last few days. I guess the long bank holiday weekend, together with the school holidays, have really thrown her.
We go through what day it is and what we're doing every morning but she's needed reassurance throughout the day.
It's been a good one though, a relaxed morning at home and then a trip to the shops this afternoon when it's always quieter.
We had to pop to the opticians to order my glasses. For some daft reason, even though it's a small shopping area, there are three opticians! I guess it's whoever can afford the rent. We luckily were the only customers and therefore D was very relaxed, happy to chat to the assistants and tell them all about her chick, Elizabeth (which she named after the Queen).
She was delighted therefore that little Easter chick decorations were reduced in the supermarket and got some "babies" for Elizabeth as a treat. The only downside was that the supermarket was quite busy, people just don't seem to notice her buggy or any attempts to get past the trollies they leave everywhere – I always say "excuse me". I don't know, little ones in buggies are always cooed and smiled at, everybody older seems invisible/an object for stares, will it always be like that?
Elizabeth "met" her chicks when we got home and is, according to D, very pleased to be a mother!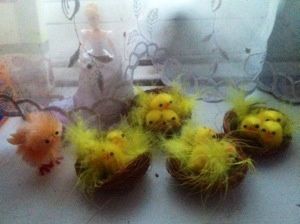 T did well today, his team winning 4:3 at home today, which is apparently 7 wins on the trot. It must have made a change not to be playing in the wind and rain today, well…it is April and Spring might finally be coming!
A good day therefore for us, now if I can just get rid of this cold…
Hope everyone's had a good day too, comments/RTs/shares welcomed. Thanks for reading Jx 😘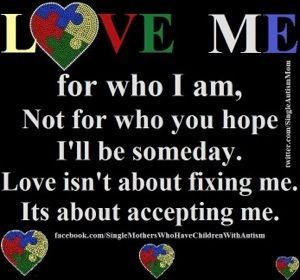 ---
---