First day of April today, the start of Autism Awareness month. I've decided to revisit posts daily this month I wrote when I first started blogging as well as the diary blog (diary bit at the end).
What I'd like is shares – Facebook/twitter/Google + (whatever that last one is) – let's get awareness out there, in the hope it will lead to ACCEPTANCE, something everyone is ultimately wishing for.
So, the first post I'd like to re-post is:
"A is for ….
One of the reasons I am on Twitter – in fact, my main reason now – is to raise Autism awareness. The good and the bad elements. There are people who say that autism parents shouldn't be posting positive messages but if you can't reassure those parents who are newly facing a diagnosis that, once they have grieved for the child they won't have, they will embrace and accept the child that they do – even if at times you're thinking "autism sucks, I hate autism with a passion today" – then you may just as well give up.
So, let's start negatively:
A is for:
Anger – why me? Why my child? What have I and they done to deserve this – this label?
Also, A is for Attitude – the looks, the stares, the comments you receive when you take your child out. Would they make those same comments if D was in a wheelchair or on crutches? Also, Anxiety – handed out to our children in bucketloads.
U is for:
Unwilling. We've all been there, that reluctance to try new foods, to go to new places or enter a shop if it's too noisy/too many people. We can't just scoop our children up and head out at a moments notice – it all needs planning.
T is for:
Tiring. It is exhausting parenting a special needs child. Autism is relentless, you have to keep going if you have had little or no sleep/if you are ill because the routines need to be adhered to.
I is for:
Ignorance of other people, very similar to attitude.
S is for:
Selfish. Again, autism does not recognise that you may need to be doing something and your child needs to be doing something else. It will not wait for you.
M is for:
(we all know this one) Meltdown. You can spot the triggers and try to prevent it, but if it's coming, it's coming and there isn't a lot you can do to stop it. Just ride with it and pick up the pieces afterwards.
Okay, now we're depressed, let's find some positives, this is the point where I think "did I spell that right?"
Thinking, happy positive thoughts now…
A is for:
Awesome. That feeling when your child does something unprompted and unexpected. The first time D wrote her name was amazing, that unexpected "I love you" or if your child is non-verbal, that love in their eyes – unbeatable.
U is for:
Unstoppable. That OCD element, that makes them want to carry on until they are happy with what they are doing. In D's case, it's the constant drawing until she is happy with what she's doing. That perfectionist element.
T is for:
Triumph. Similar to awesome. That feeling when something is achieved. Even if they don't appreciate what they have just done. A year ago, I still wasn't sure if D would be able to read, now she reads to me!
I is for:
Individual. My daughter isn't going to be a fake-tanned, hair straightening teenager, she's D, with her faithful companion Bunny.
S is for:
Special, and not just as in "special needs", when she smiles, it's like a light shining in the darkness.
M is for:
Mumma. That's me *waves*. I'm proud of my children and thanks for reading this, please comment/share and help to raise Awareness."
The post above is one of my favourites, it rushed out onto the screen one day and I think it gets a message across.
On with our day:
To say it's been a long one is an understatement, it started at 3am. Whether it was the combination of lots of excitement on Saturday and then an Easter choc-fest yesterday, I'm not sure. Despite having had her melatonin earlier, she was wide awake and full of anxieties from a (very) early time. Bad dreams aplenty.
It's been a quiet day therefore, governed by coffee (for me) cuddles and comfort from Bunny (for D). T has been empathetic towards his sister, which has been unusual and very much welcomed. I hope she sleeps better tonight. I'm very glad it's the school holidays as I don't think she'd have lasted had it been school today.
D's been happy at her own pace and made a lovely rosette out of paper, small things and BluTack, it's for her paper horse out-of-a-book Diamond.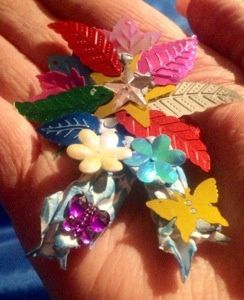 So, while it's been a quiet day by necessity, it's been calm – despite the very early start – I think she's been too tired for it to be anything but.
Hopefully everyone's had a good day, comments/RTs/shares welcomed, thanks for reading Jx 😘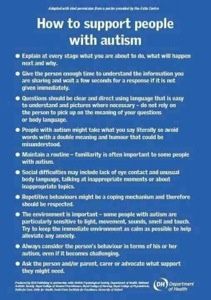 ---
---