The first day of the Easter holidays and all has been calm, much needed after the very emotional week that we've had. I know events this week were a combination of tiredness and school for D and it definitely didn't mix well but at least both her and T have two weeks off now.
We've talked about the significance of Good Friday and the symbolism of crosses and hot cross buns, I don't think D understood the crucifixion element completely and as I didn't want her to get upset, I simplified it for her. They both understood the new life element of Easter.
Elizabeth the chick (named after the Queen) has become one of D's constant companions; along with Bunny, her little bag of Small Things and a cardboard unicorn (from a book).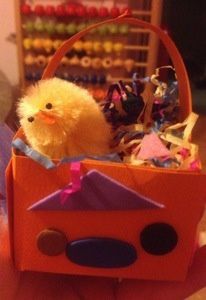 Elizabeth (et all) will be travelling with us to Legoland tomorrow, I've packed a waterproof wash bag so that D's Small Things do not get soaked on any water rides. I do not fancy repercussions if Bunny or cardboard unicorn get wet or worse still, dropped.
I hope tomorrow goes well, T and D are very much looking forward to it. They have ideas as to which rides they woulf like to go on and one of T's first requirements will be to get a map and plan our itinerary.
A packed lunch is not just a packed lunch for us, I have to take their usual plates, usual drinks bottles and plenty of what they would normally eat at lunchtime – no takeaway sandwiches for them, they wouldn't look or taste correct. Similarly drinks bottles, D doesn't trust any water apart from cold water from our taps, anything else tastes funny apparently.
Today has involved – in no particular order – Madagascar 3 on DVD; some drawing, colouring and cutting out of more Small Things for D's bag; reading, a teensy bit of squabbling between T and D and cuddles! Lots of cuddles.
A good day then, I hope it's been the same for everyone else. World Autism
Awareness Day is next Tuesday, has anyone got any plans for awareness raising?
Comments/RTs/shares as ever welcomed, thanks for reading Jx 😘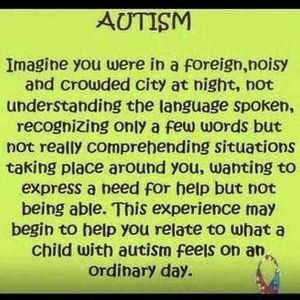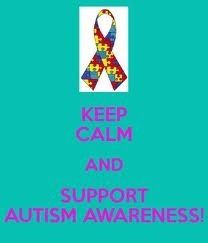 ---
---