Psst! It's me, Bunny. Don't tell her…that Mumma woman, I've snuck on because I.Am.Cross.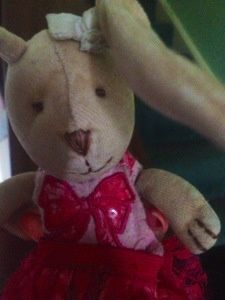 (That's me looking cross by the way)
I am D's comforter, her anxiety tool, her best toy ever. Go on, ask her who is her favourite toy and she will say me, guaranteed.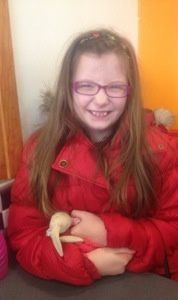 We go everywhere together; D moves to another room in the house, I'm there; school, outings and bedtime I'm always with her. If she's drawing/reading/playing I'm tucked safely under her armpit, ready to come out and be cuddled. I'm special and I know it.
So why, in the name of everything cuddly, has she (that Mumma woman) been onto eBay and brought these?
I mean, does this one look as loved as me? Does it?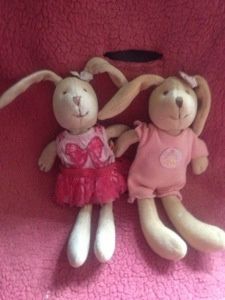 And, as for this, she totally got the measurements wrong!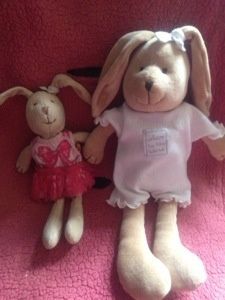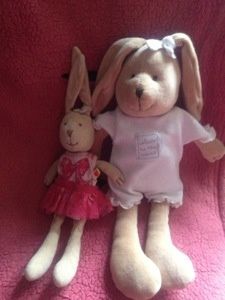 *sniffs* I can't be replaced, I just can't. These other Bunnies are all well and good but I'm the original, the best.
She (that Mumma woman) has started carrying one around in her bag, she's said to D that it's something to cuddle and love if ever I'm dropped (what?) and during the time they're searching for me. How can I ever be replaced?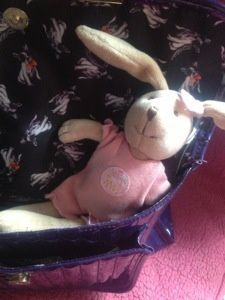 I'm Bunny, the original and the best and D couldn't be without me, simple as that.
This YouTube clip, this Toy Story segment, says it all, 2 minutes 20 seconds in. I DO see everything and I'm NOT being replaced!
---
---