I didn't like my name when I was growing up. It was too long, no-one ever spelt like correctly – apart from my family. I wanted to change it to Jay.
There were so many variations:
Jeanette
Janette
Janet
Jeannetta
Jinet
and my all time (un) favourite: Ginette.
I was reading something by Kirstie Allsopp yesterday in which she states openly that any correspondence (I took this to be fan mail) received in which the "ie" in Kirstie is replaced by a "y" or her surname is spelt with only one "p", it's thrown away without reading it.
I think I'm the opposite, I have got so used to my name being spelt wrongly that if it is correctly spelt, I'm secretly pleased.
My name (and its pesky spelling) originated from my granddad's name of John; French version of that is Jean, expand that and you get Jeanne (English equivalent Joan), expand further and you get my name (English equivalent Janet).
I had a couple of minutes yesterday so had a quick random search on eBay – you know, as you do – typing in all sorts of searches, wondering what the answers would be.
I typed in "Jeannette" and was quite surprised! I knew that there had been a singer called Jeannette, but also found these:


A street sign in Pennsylvania? Here's the link. This made me laugh because I used to be a PA and I guess I still am, preparing quotes/invoices/taking messages for a self-employed Hubbie, sorting out medical and other appointments for my children. I'm tempted to buy it and hang it in the house.
Then I found something else which amused me more: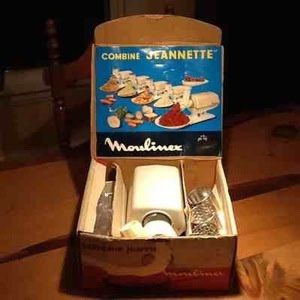 A Moulinex food mixer called Jeannette! Here's that link. I have nothing against food mixers, I'd better add.
There is also glassware and a bunny (awww!).
It just goes to show, someone somewhere has something that you didn't know you were looking for, "Jay" now says to me birds, Beyonce's husband and that pouty woman who used to be in Bucks Fizz.
My name is individual, it's who I am and if people DO spell it correctly, I'm grateful but I will still read bits and pieces received if they don't!
Thanks for reading!
---
---