D is meant to be going to a birthday party tomorrow at TVAP or Taplow tomorrow. It's for a child who had his party there same weekend last year, I was only thinking today how nice the weather had been then, they'd all had their birthday tea outside in the sunshine. Not so, the prediction for tomorrow, T's paintball-ing party has already been changed to bowling, due to the forecast.
I've tried gently broaching the subject with D tomorrow, as it's a bus, a train ride and then a 20 minute walk away for us, I needed to prepare her for the possibility that we might not be able to go, obviously I want to take her, she loves it there but the way this country grounds to a halt with a inch or so of snow, it's best to be prepared.
Unsurprisingly it hasn't gone too well, the potential change preparation. D has threatened to leave home and walk there herself, not a threat to be taken lightly, her stranger anxieties mean that she could and would bolt if someone went near her. Doesn't bear thinking about.
It's a shame because she'd had a good end to the week, trotted off to school knowing that this was the last Friday before the Easter holidays and a four-day school week next week. D had made chocolate crispy cakes at school today, something I'd hoped she'd try as she likes chocolate and cornflakes separately, but no, she didn't want to try them combined and school didn't force her. The ice cream van was outside school today, in the high winds and rain (?!?)…no, we didn't!! Lots of singing of songs from "Joseph", she is not only going to know the choral songs but all of them by the time of the production, bless her!
T had had a good day too, buoyed on by tomorrow's (now changed) activities, I'm very grateful there is an alternative two disappointed children would be challenging, shall we say!
So, for a family that is so used to routines, to knowing where we are and when, it's a funny old evening. I wonder how tomorrow will pan out?
Here's today's earlier post on Toys and Autism, something that I really enjoyed asking for experiences and writing up. I hope everyone's had a good end to the week, comments/RTs/shares as ever welcomed, thanks for reading Jx 😘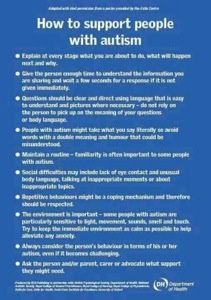 ---
---