I'm linking in with #MagicMoments over at theoliversmadhouse.co.uk again today. We've all had very little sleep thanks to D's suffering from anxieties for most of the night (pass me some coffee please) so it's good to revisit something and stay positive.
I very nearly didn't meet Mr Bluecrisps aka Hubbie. At the time, he was the brother of one of my work friends, someone I didn't know existed until I went into work on a Monday morning and mentioned that I wanted the outside of my house painted.
My fear of heights meant that I'd painted to just above the ground floor windows, but couldn't do the rest. I currently had a cornflower blue bottom of my little terrace house, with a standard magnolia top. A sort of huge dolly mixture sweet effect.
I'd been a single parent to C for nearly 3 years, asking my ex to paint it was not an option. He refused to pay proper maintenance/any expenses for his son, he certainly wasn't going to put himself to any trouble with a paintbrush.
That work morning I mentioned my stripy house in passing and my friend said "I've got a brother, I'll ask him to have a look."
First I'd heard of his existence, from what she then said he sounded like a confirmed bachelor, happily self-employed, being his own boss, able to just take off and travel seeing sports when it suited him. Anyway, I was glad he was able to help and would pay, of course.
The next weekend, a man knocked on my door, a friendly man with a big smile. He painted the outside of the house and then he spoke to my (little at the time) shy C, who had just turned 6. I remember thinking he had a natural way with children and that he'd taken the time to talk to C, but accept that he (C) was shy, he didn't force answers out of him.
There'd been something about him, the gentle way he spoke to C made me think he was worth getting to know and, over the next few days, I tentatively made enquiries of my friend. She was surprised but delighted – lol – but did warn me that he liked sport, a lot.
This was a big (no, huge) step for me. I'd been single for nearly 3 years – drunken smooches in clubs on a rare night out notwithstanding – but it felt the right thing to do.
We had our first date shortly after that – taking into account an FA cup final (!) – and married on the second anniversary of our first date.
Below is a post I dedicated to him on our anniversary last year:
"Hubbie would probably be very pleased at the title (Mr Bluecrisps) actually, he's always telling his customers about the blog and he'll sit there, poised with his phone, ready to read it as soon as I've pressed "publish" – why he doesn't have a sneak preview beforehand I don't know! Bless him!
I can imagine he's reading this with "Mr Blue Sky" going through his brain!
Anyway, today (30 May 2012) we've been together 12 years and married for 10 years. We married on our second anniversary. In Jersey, on a day as beautiful (but not quite as hot) as today.
Hubbie became on that day a stepfather to C and has proved to be more of a father figure and role model than his birth dad ever was so I'm grateful even if C is going through that *one grunt for yes/no/whatever"'phrase. It took a course of Clomid to have C so I wasn't sure if we'd be blessed with any more children, T and D were very welcomed – if not a lovely surprise, both times!
Hubbie is the brother of one of my friends and ex-work colleagues so joining their family was very familiar! He was wonderful with C from the first moment he met him and at subsequent BBQs and parties was the one that the children flocked to to throw cold water over or play football with.
We've gone through a lot in the last 10 (or 12) years – marriage, house move (6 weeks before D arrived), two home births, D's diagnosis, various family and pet deaths, my attack just over a year ago and our elderly parents' continued ill health but we have each other and our family unit and that what makes us strong.
Hubbie works very hard for us and incredibly protective. I'm his "woman" and he's my man. Before you think that sounds very anti-feminist I'd better add that for all his masculinity he's rubbish at DIY and gardening so that's my role!
Wouldn't be without him. It was a big step for me as a single mum to take those first tentative baby steps and for him, as a confirmed sport-loving bachelor to take on me and C.
Very glad you did though Mr Bluecrisps. Love you, Mrs Bluecrisps 😘😘"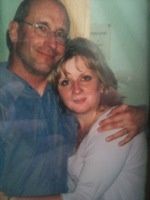 Strange how one moment can totally change your life isn't it? If Mr Bluecrisps hadn't been so considerate with C, I wouldn't have thought any more about thinking of him in any way other than someone who helped out that morning. Definitely a #MagicMoment!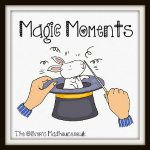 ---
---