I'm going to gloss over yesterday very quickly, I did a little Pick My Red Nose in keeping with Comic Relief etc. I figured that everyone would be laughing away at – the Simon Cowell marriage sketch, for example – the comedy, far more interesting than my blog!
Yesterday was the culmination of D's anxieties with regards to the change of routine at school, the unfamiliar clothes that people would be wearing and the jollity of the day. She didn't enter school well, for the third day running.
But, it was all for a very good cause, by no means am I knocking the school's participation, it's our D who couldn't cope with the anticipation and the build up.
Today was a new day. A good day. Our daughter (D) rushing in to our room first thing, squeaking happily and smiling. Such a relief to see after the last few days, they'd been early starts too. I guess she was relieved.
It HAS been a good day, very much needed. Hubbie and T were at T's football match this morning – got soaked but won 4:1 – and a local match this afternoon. So it's been a peaceful go-at-your-own-pace-but-stick-to-routine day, too busy at the shops to even contemplate going out, the rain has absolutely pelted down anyway.
There was a nice moment tonight, when D was between 3 and 6 years, she absolutely loved The Wonderpets – click on the link to go to some information on Wikipedia – a little bath toy reminded me of them, so I asked her if she remembered them.

She didn't at first, which was a shame because, well, she absolutely loved them. I remember having to order the boat in the picture (Flyboat) from America for her 4th birthday because it wasn't on sale in the UK. We watched them every day and I think D's love of animals stemmed from the programme.
She still didn't remember until Hubbie and I sang the theme song and then it was as if a switch went on, and she sang along. Lovely! Click here to view the song on YouTube.
I know it's not that long ago – nearly 3 years – but it seems much longer, so much has happened in that time.
Lovely revisiting it though and I guess it shows that musical memories stay with us.
(Which reminds me, I have an autism linked music review to get on the blog.)
Crossing my fingers (and toes) that tomorrow will be just as calm and then back to school on Monday, not long until Easter holidays now.
I hope everyone's had a good day, comments/RTs/shares as ever welcomed. Jx 😘 No jokey end picture tonight because I wanted to share this: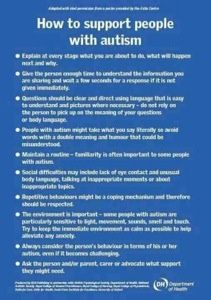 ---
---