Yesterday was not a good day – click here for my diary post – it didn't start well and it certainly didn't continue well.
One of the downsides about D having a dreadful start was that I wasn't really focused on what I was meant to be doing. I wrote our Bookworm Wednesday and a review, almost halfheartedly, thinking about my girl and whether her day was improving.
I was meant to have an eye test yesterday, I say meant because I got the time wrong. I thought it was 10.20am when it had been 10.00am. Talk about embarrassing! The opticians were very nice about it and said "don't worry, it happens". I never, ever get times or dates wrong, I guess I was too distracted.
Part of me was secretly relieved, I think they'll be telling me I'll need glasses for the first time. I had Bells Palsy a few years ago
– to read my post on the experience, click here – and the eye on that side of my face is definitely weaker. You wouldn't know to look at it, but it is.
So, I know but I don't, if you know what I mean.
Anyway, another appointment has been made for tomorrow and I left feeling a bit of a numpty.
Someone was outside the shops further down, handing out leaflets and I took one. It was only a voucher for a free Specsavers eye test!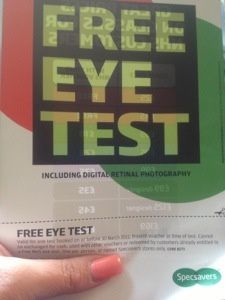 The timing couldn't have been better and obviously, if I'd gone at the right time (but didn't, doh!) I'd have paid full price.
The chap handing them out must thought it was his lucky day, not only did I thank him but asked for another. Hubbie is due an eye test too.
So, thinking positive, every cloud DOES have a silver lining! Wish me luck for tomorrow though Jx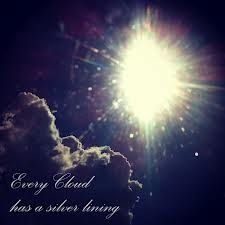 ---
---