Taken from the Sky News website:
"Last Updated 11:50 13/03/2013
Black smoke from the first two votes of the conclave entering its second day has signalled the cardinals tasked with electing a new pope are still not agreed on Benedict's successor."
The news that the cardinals are still undecided on electing a new Pope takes me right back to my childhood. A happy time, a school holiday spent with my maternal grandparents in Sussex.
I remember my granddad explaining to me what the black smoke signified and what it would mean if the smoke changed to white.
He wasn't an overly religious man but I remember him saying "Jeannette, you need to watch this, this is history in the making" and I did. I listened to my brave, proud grandfather and watched as the black smoke eventually changed to white, signifying a decision had been made.
My grandfather had served his country in WW2, he never discussed his experiences. He used to hate the sound of fireworks, they must have brought back terrible memories – the flashes and the bangs.
He had an immense sense of values, of right and wrong. I don't know what he would have made of this modern high-tech world. I don't think he'd have liked it. He was incredibly stubborn too, used to doing things in his time, in his way. Goodness knows he'd earned that right.
He only knew my eldest child, which was a shame.
I'm glad he taught me about the Papal election and what the smoke signified, it's something I'll always remember and tell T and D about later.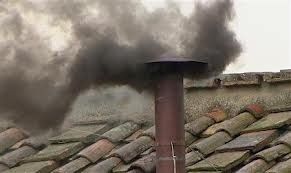 ---
---