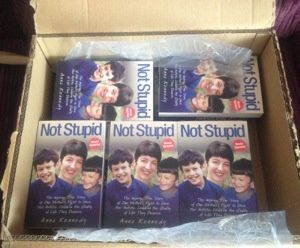 Thank you to everyone who entered the book draw and RTd the original post (click here to read).
If anyone missed the Tesco Mum of the Year programme yesterday, you can watch it online here, Anna's was the first award to be given. The whole event looked to be a wonderful tribute to all winners and it was very fittingly shown on Mothers Day.
Now for the winners, I'll be in touch seperately with you all for an address, if you follow me on Twitter, a DMd address will be fine. Another alternative is to use the contact form on autismmumma.com, click here for the link. I will let people know when the books have been sent out and would ask that you let me know when the book has safely arrived.
The winners are:
From Twitter:
@liz_rourke
@ManicMippisMum
@KatieDempsey5
@Liz72
@SqueaseUK
@bonbons1965
@UBIQUITYIMAGERY
@Mummybear733
@Dozyhead
@Freyjawalker
@KatWilson43
@seasidecol
@emzamy
@fearn2261
@h4nk1n7
@spikeybear11
@simoncrichton
@clkh_
And from blog comments:
Hazel Griffiths
Jax Blunt
I'll be sending the books out in one batch, so the sooner I receive addresses, the better.
I know that all the winners will enjoy reading the book, it is a very inspirational read.
I'd like to thank again everyone who entered the draw, Susannah Pearce c/o Tesco Magazine for her assistance and asking me to write a post (which was an honour) and Anna and her publishers for agreeing to the giveaway and supplying the books.
Thanks for reading Jx 😘
---