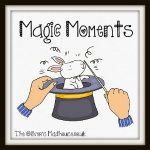 Today I'm re-visiting a recent Magic Moment for a great new initiative via theoliversmadhouse.co.uk,click here to read Jaime's post.
This was truly a Magic Moment, tears of pride streamed down my face for the whole time, not just for D but for every SN child on that stage.
"We've been practising songs in the bath; on the school run….everywhere and today, it finally arrived. The day of D's school play.
D couldn't go into the school hall at all during her time in mainstream, I never got to see her in an assembly or a play, nerves and anxieties got the better of her. We'd practice the songs at home until she was word-perfect, do dress rehearsals and then, on the day, severe anxieties would set in and she'd be left with a TA in a classroom, whilst the rest of the class performed.
Not today though.
Our girl was Mary and she was brilliant!!
It was a two year groups combined production and everyone did fantastically. It's not easy to stand up in front of people and speak/sing but all these SN children managed it, with gentle prompts and persuasion from the school staff.
What was so lovely to see was, with D's fantastic memory for timings etc, she was gently instructing her classmates into position and went to fetch the baby for the manger before it was handed to her. So proud of her.
We went back to her classroom for a mince pie and orange juice afterwards and D was very happy, lots of people had told her how well she had done.
The best part for D was she'd been told she could go home afterwards so..we did!"
This was obviously from the build-up to
Christmas, it was wonderful.
D's SN school are putting on a performance of "Joseph and the Amazing Technicolour Dreamcoat" just after Easter, D will be in the choir, it will be wonderful to watch.
Thanks for Jaime for hosting the linky x.
---