Awww, D was so, so excited previously about it being Mothers Day today. She'd decided that everyone "would work for you, Mumma" and had hidden her gifts until this morning.
Unfortunately she got a bit over-whelmed by the occasion and the self-imposed pressure and – as she put it – got "too shy" to get excited. "Too shy" is her code-word (almost) for not being happy/reluctant to join in, I've learnt not to literally interpret everything that D says as sometimes she doesn't have the appropriate words.
Eventually, after some gentle persuasion and bear-hugs, she joined in with the morning and, what she'd made at school was completely worth the wait.
She made this wonderful card, with lovely writing inside: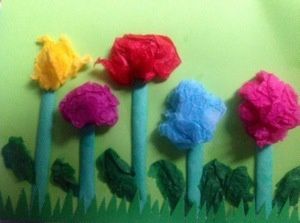 And this beautiful bracelet, which is going to be worn with absolute pride, I love it! She gave detailed explanations of why she'd chosen each particular bead and she'd obviously taken a lot of time to chose them.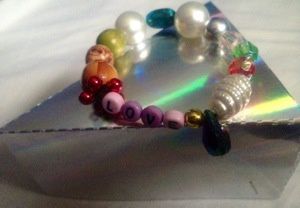 It goes without saying that routines have been adhered to and, I haven't really had "a day off", had plenty of cuddles on request and that's been nice.
The title of the blog tonight came from something D said this afternoon. Hubbie was watching the football, which is always met with protests from D, she doesn't enjoy watching it and always has a bit of a moan. Anyway, Hubbie's team scored and he dashed off to tell T, D looked up from wearing the battery out on my phone and said "someone's happy!", then went back to playing "Run Roo Run". It was the sort of comment that my grandma, for example, would have made (and the way she said it too), it was really funny, bless her.
All too soon, it's been time to wind down and prepare for back-to-school tomorrow. No anxieties at present but the predictable unpredictability of autism parenting means that it could all be different by morning. Today – early morning anxieties aside – has been a lovely Mothers Day and I'm grateful.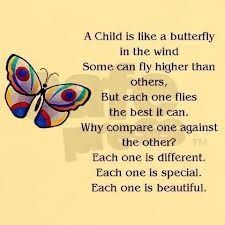 I hope everyone's day has gone well, comments/RTs/shares as ever welcomed, thanks for reading Jx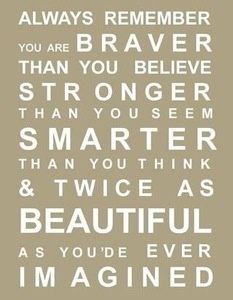 ---
---