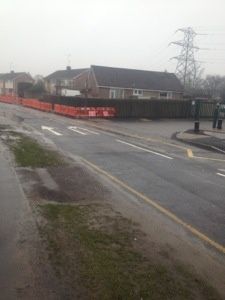 Soaked and furious, covered in dirty muddy puddle water. It's all over my coat, trousers, the SN buggy, D's snuggly cuddleuppet blanket and, as I found out when I got home, my face. I looked like I had freckles.
Why? Because some inconsiderate p*at decided to drive too fast through the puddle opposite the mainstream school I have to walk past.
I couldn't walk on the other side because the council have dug up the pavement to extend a cycle lane (yes, half term would have been an ideal time to do this but no) so all the kids and parents are forced out into a busy road – which is also a bus route – until it's done.
The other pavement, where I got soaked, has been wrecked by cars constantly parking there, dropping off and picking up their children. The school have tried having PCSO's out there and sending letters home but they are still park there. Obstructing the access for the home owners, blocking the pavements and wrecking the verges. They're a serious accident waiting to happen.
Just a thought, Mr Council person who makes decisions, why not get the blooming verges levelled and tarmaced, or even better, bollard them off but don't waste what little money you have when there are so many other ways it could be better used.
I could rant on about the local schools that have buckets in their corridors when it rained as the roofs are leaking, the pot holes everywhere in the roads and the shopping centre which is turning into a no-go area at night because the teenagers congregate up there at night, bored out of their skulls so they run riot, but I'll leave it there.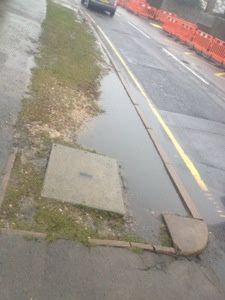 Linking in with Mummy Barrow's Ranty Friday, thanks for reading.

---
---