T has been very eager to write a Bookworm Wednesday post as he's discovered a series of books written by Lincoln Peirce and, being the very avid reader that he is, he's really enjoying them.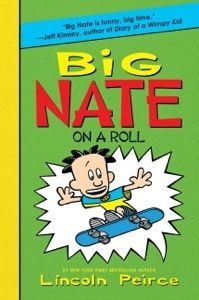 The book is available here from Amazon and I've seen the books in Waterstones too. As before, these are T's views and words, I've made cosmetic adjustments only.
"When the announcement in Nate's scout troop says they are raising money for a camping trip and whoever bags the most cash wins a cool customised skateboard, Nate leaps into action.
Nate's keen to find out who the newest member of the scout troop is, but when he finds out who it is, he isn't happy. It's Artur, aka: Mr Lucky. Artur is a gentle exchange student who's popular with ALMOST everyone. So now Nate thinks he can't win the skateboard because Artur is Mr. Lucky.
With Nate struggling to find the most cash, he comes up with an ingenious plan: selling his very own comics. He calls the comics "Nate's comix crack up". He tries to find a place to sell and make money.
With Artur already have collected £424, will Nate get the most money to beat Mr Lucky and earn the grand prize? Or will Artur win, AGAIN?!"
I really enjoy sharing T's reviews, he writes a very good summary and leaves me wanting to read the book.
This is what Amazon says about the book:
"Big Nate is back, starring in the third instalment of his own super-funny series. Big Nate is created by Lincoln Peirce, who inspired Jeff Kinney, author of 'Diary of a Wimpy Kid'.
Big Nate's scout troop is fundraising and while door-to-door selling isn't really Nate's thing, there's nothing like a Grand Prize to get him motivated. Especially when the prize is an awesomely cool customised skateboard (and following an incident with a poodle and a bridge Nate is in need of a new set of wheels). Nate HAS to win the prize but to do that he must out-sell Artur – the luckiest boy at school.
Will Nate beat Artur to the prize (and possibly win over Jenny)?
Or will he just end up in detention?"
For more information on the Big Nate books and Lincoln Peirce, please click here to go to the official website.
Thanks for reading Jx 😘
---
---