Recently we were offered the chance to trial a Squease inflatable deep pressure vest – click here to visit their website.
"Squease is an inflatable deep pressure vest that is hidden away inside a hooded top. No weights are used; hug-like pressure is applied to to the upper body simply by inflating the vest with air.
The vest is lightweight and may be worn by itself or zipped inside a Squease hooded top, making it discreet and mobile.
The vest is inflated by squeezing a hand pump, allowing the wearer to regulate and apply soothing pressure in everyday situations that may lead to anxiety, stress or sensory overload – whether that is at home, at school, or on-the-move.
For people with sensory processing difficulties such as many people with autism, who find dealing with change, busy environments or contact with other people to be highly stressful, applying pressure to the upper body may be calming, increase body awareness or improve attention and focus."
These two YouTube videos explain how the Squease vest originated and how it works – click here and here to view. These are two separate films.
My first impressions:
The vest is incredibly light when deflated and because it works by squeezing an air pump (which if you have the Squease inside the hooded top option) is very discreet to inflate and deflate. The two pictures below show first a deflated and then an inflated vest.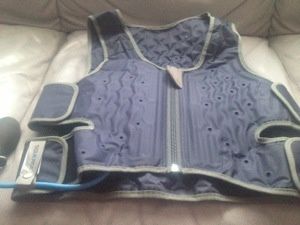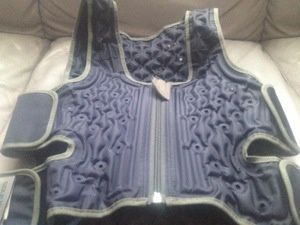 How does it work?
Firstly set-up your pressure vest over a t-shirt or vest whilst standing. Fasten the Velcro side-straps so that the vest fits loosely, Squease recommends leaving a gap of one or two finger-widths between the front of the vest and the body.
To inflate the vest, simply squeeze the hand pump until the desired level of compression is reached on the upper body.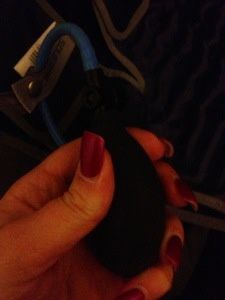 To deflate, press the air release button at the top of the hand pump and the vest deflates quickly and discretely.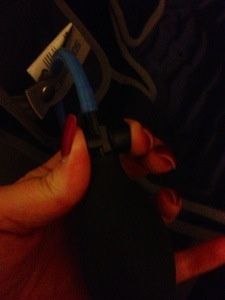 The benefits we found:
D mastered the act of inflation and deflation quickly. I had to prompt her to inflate it when we were out-and-about in a busy environment and anxieties were emerging, but the compression benefit was instant and she likened it to "receiving a bear hug from you, Mumma".
I really like the idea that the vest can be zipped inside a Squease hooded too, with the hand pump fitting into a pocket slot.
The Squease is available in a variety of hooded top/without hooded top colour and size combinations – click here to visit the online store – and the company are planning to introduce child sizes shortly, but to give an idea of adult sizing, the adult small fitted D very well, the Velcro straps enabling a perfect fit.
The vest (and optional hooded top) can be rented or purchased outright and a VAT relief scheme is available:
"If Squease garments are purchased for personal or domestic use by a chronically ill or disabled individual or are made available to a disabled person or persons for domestic or personal use, then we may supply the products at zero-rated Value Added Tax (VAT).
When you purchase an item online questions are asked through the checkout process assessing whether VAT is required. If you wish to pay by cheque or bank transfer then please fill out the form on the right and post it to us or email it to us."
The company also offers a "Trial
before you buy scheme" – click here for details.
Would D and I recommend it?
Yes, definitely. So many weighted products are extremely beneficial but naturally extremely heavy, the Squease is lightweight and discreet.
I like the idea of trialling one first too.
Would we buy one?
Absolutely.
I'll end with some pictures of a very happy D, wearing the vest. She instantly relaxed and felt the benefits and it's something I'll be looking to purchase once she's finished her current (rapid) growth spurt.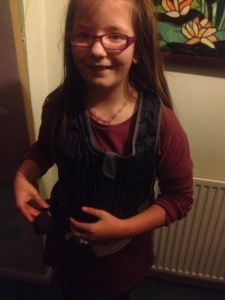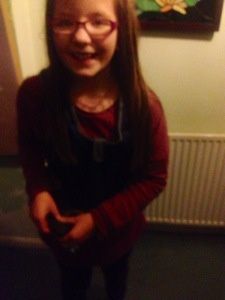 Thanks for reading, comments/RTs/shares as ever welcomed.
Disclaimer: we were sent a Squease vest to trial for a few weeks. No payment was received and our views were our own.
---
---