Do you, my darling girl? The looks received when we're out and about.
Like today. At the age of nearly 9 years old, you've learnt how to role-play with your toys. A lot of it is "learnt script" or echolalia but you know what, I could listen to it all day because I never imagined you'd play like this. Taking Playmobil characters out of your little bag and telling them what's happening, sometimes it's in the style of "Ben and Holly", sometimes it's "Scooby Doo" but it's brilliant.
Other people haven't thought so today. The woman who was asked to move her chair by the Costa barista so we could get the buggy past to sit at the next table. She sat there, almost sneering, when you were (quietly) role-playing and as you ate your packed lunch, with gentle reminders from me not to eat with your mouth open, not to wipe your hands on your clothes. Little reminders that I gently make every mealtime. That woman caught my eye and the look of disdain… perhaps she didn't have family, no-one was with her and then she moved to another table. I thought a very rude word in my head but carried on, chatting to you, my priority.
The looks we got today. You're completely unaware. I guess it's because you can't "read" faces, perhaps you see shoppers around us as entities, noisy emotionless entities, each with their own smells and sounds. But they worry you if they get too close and that's why we have your buggy. You don't notice the glances from buggy-to you-to me-back to you. I do. The inner lioness in me roars up but it stays inside. It only emerges if there's a comment and then it bristles and growls. Never biting metaphorically though, my inner armour tells me not too.
People are so quick to judge and condemn based on colour of skin/hair, race, gender inclination and body shape. It must be difficult to make a snap-judgement based on someone in a buggy; someone who flaps with excitement; someone who looks much older than your nearly-9 years but emotionally much much younger.
Will you ever notice them looking? I don't know and if I'm being honest, I'd prefer you didn't. Let me do the roaring and worrying for you. You and Bunny concentrate on being happy.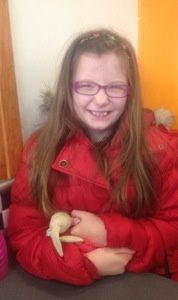 ---
---