Today has been a day of new experiences, of challenges. I've come through it relatively unscathed (armour slightly chinked) and immensely proud of my girl.
This was morning was Arts and Crafts club – an initiative run by MENCAP – only today it wasn't Arts and Crafts, it was a dance lesson. D knew that it was different today and up until this morning, she'd been looking forward to it. However, anxieties kicked in before we left, continued on the bus journey and when we got there. It took about 5 minutes to get her into the room and I joined the other mums, leaving D curled up in a chair with a volunteer next to her. It didn't look hopeful. I sneaked a peek after about 5 minutes and she hadn't joined in, but at least was watching, still with a volunteer with her.
The joy therefore, a few minutes later, when the volunteer came out and said "she's fine, she's joining in and she said to tell you not to worry". This prompted a few sniffs from me and the other mums….how cute! (D later told me that she'd meant to say that she wanted me to come and watch, I guess our telepathy wasn't working today)
Further proud moments when we were all invited in to watch the children perform the dance they'd been learning, wonderful to see them all, with their varying disabilities concentrating but obviously enjoying it. Huge claps all round.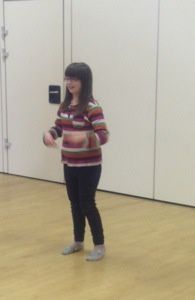 There were 6 children there, so it was a manageable group and one of the children has a birthday on Monday so there was a birthday cake, candles and the happy birthday song.
It's nice to get together with other mums of SN children, chat and share experiences. The girls far out-numbered the only boy today, which is unusual for SN settings.
A trip after that to the opticians (specialising in SN children) to pick up D's new glasses, we were very early for the appointment as I had absolutely no idea how long it would take to walk there but, being the brilliant chappie that he is, he saw us immediately. A slightly dicey moment when D realised she'd left her bag in there but, she very calmly went back in with me and it was retrieved.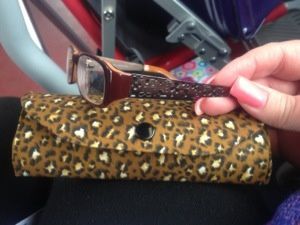 Unfortunately there was no direct bus home and we had to travel into town, to go back out again. Either that or me pushing the buggy for 1.5hours up and down hills…yep, a bus seemed preferable.
The bus journey promoted another anxious moment when D read the time on the screens on the bus and realised it was 12noon and that's when we have lunch – on the dot, everyday. There was a bit of "I'm starving, I'm wasting away" cue distraction time with my phone.
Town was busy, very busy. Luckily D didn't notice the looks etc – click here for post. One very rude woman in particular but you get used to it *buckles up thicker skin*. I just wish it wasn't like that.
Glad to be home this afternoon after a busy day but she did very well, both with the change to Arts and Crafts, the leaving behind of her bag and the change to the lunch time. Well done D!
T's had a good day too. After the disappointment of both the Saturday and Sunday matches being cancelled last week, his time won 2:1 this morning and the local team he watched this pm won their game too. A tired, but happy little man tonight..until he was reminded about his homework to be done tomorrow, it's no fun being bad Mumma at times like that.
But the positives have far out-weighed any negatives today and that's a thumbs-up for us! I hope everyone's had a good day too, comments/RTs/shares as ever welcomed, thanks for reading Jx 😘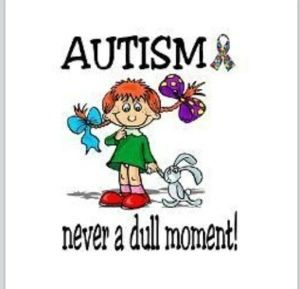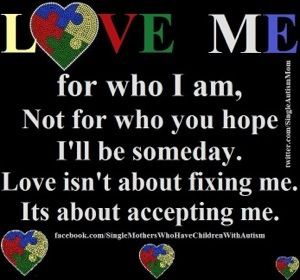 ---