Thanks to everyone who entered the book draw. Winners of books to be announced Mon 11 March
*************************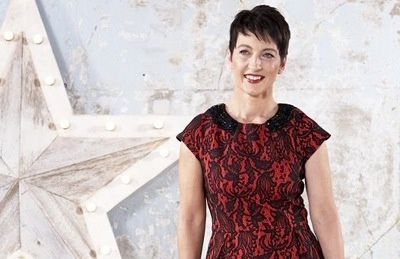 (Image courtesy of Tesco magazine)
Parenting special needs children is challenging and, at times, exhausting. Finding an appropriate educational setting for them is also a must, somewhere you can feel confident that they will be given the chance to flourish, somewhere where you feel that they will be given a chance.
Sometimes there just isn't anywhere, sometimes there are no viable options. Anna Kennedy, the Tesco Achieving Mum of the Year found herself in this very situation, having been turned away by 26 special needs schools. Instead of sinking into a pit of despair and pity, Anna turned the situation into an immense victory by establishing a school and in time, a further school, a college and a respite home for the care and support of those affected by autism and their families.
Anna is an inspiration, having read her book (see giveaway below) I can only admire her commitment and determination to get the best possible education for her sons and the community. Her book Not Stupid is written in a open, honest and humorous way, detailing their journey from frustration to joy, a true rollercoaster journey. A must read for anyone either living with/caring for someone with autism or those who want an insight into life with someone on the autistic spectrum.
Here's what Tesco Magazine said about a well-deserved winner: "Meet the mum who set up a school for autistic children after her own sons were turned away from mainstream education
Anna, 52, from Uxbridge, remortgaged her own house so she could set up a school for autistic children after her two autistic sons were turned away from mainstream education. She has now expanded support for those with autism to include two schools, a college, a respite home and a website with over 50,000 international followers.
Caring for two autistic sons is a huge task, yet Anna does this and more every day. 'When I was told by the authorities that Patrick (now 23) and Angelo (now 19) were the only children in our area with autism, I felt completely isolated and alone. It was only when I bumped into another parent one day and recognised the symptoms in her child, that I realised I wasn't alone. Together, we started a support group in my home.'
The group grew rapidly and was soon attended by 275 families. When Angelo and Patrick were later turned away by 25 mainstream schools, Anna resorted to converting her garage into a classroom. However, the local authority granted her sons only five hours of home tuition a week. Angelo's tutor was completely unable to cope with a severely autistic child and on her third day collapsed in tears.
Anna was a dance teacher and had no experience of running a business but decided to set up a school for her sons and other autistic children. 'I knew there were other heartbroken parents like me, feeling desperate after being rejected by school after school,' she says. 'That's when I realised I could create somewhere for those children.'
After hearing about a local school that was scheduled to be demolished, Anna and her husband Sean put together a feasibility study to show how it could be converted into a school for autistic children – since there was such a need in the area. She lobbied banks and remortgaged their home to raise the £627,000 worth of refurbishment costs that were needed to secure a lease on the property for 30 years. 'At the time my husband and I had just £3,000 in the bank,' she says. 'It was definitely a challenge but I looked at my sons and thought, "We can do this."'
Anna turned to her local community for help and her determination paid off. 'We applied for loans, fundraised and did everything we could to get the money. I did sponsored keep-fits and others did cycle rides. Volunteers started coming out of the woodwork to help us including carpenters, painters, and electricians. British Airways put in a kitchen as a team building exercise. A fabulous gentleman gave us furniture and carpet tiles – we picked them up from Basingstoke over six journeys in a borrowed battered old van and carpeted the hall, classrooms and corridors for free. I even approached the Probation Service and organised for offenders to come and volunteer – and after their community service time was up many kept coming back to help out. It was incredible.
Setting up the school was a steep and total learning curve as Anna had to find out how to do everything from writing an advertisement for a specialist headteacher to dealing with Ofsted, Health and Safety, and CRB checks. 'The hardest thing was tiredness because Angelo only sleeps three hours a night and I was looking after both boys at home full time,' she says. 'We had no money and lived off 9p tins of beans, but we just had to make it work.'
The Hillingdon Manor School opened in 1999 with 19 pupils. 'When Ofsted came to inspect the school in its first month, I was so nervous I was sick,' laughs Anna. 'They had the power to shut the school meaning we'd lose everything, including our house. The inspector said if he had a child with autism he'd have no hesitation in sending them to us and after he left I was running up and down the corridor filled with joy!' The school is now the largest of its kind in Europe, offering 150 autistic children a safe, structured education and a brighter future.
Not stopping there, Anna went on to set up a community college in 2001, a respite home for adults in 2004, a second specialist school in Kent in 2011, and now has an international following of 50,000 parents of autistic children through her website, Anna Kennedy Online. In addition, she provides training for the NSPCC and Childline on the issue of disability bullying and speaks about autism all over the UK.
In 2009, Anna wrote the book Not Stupid about the struggle to set up The Hillingdon School and their patron Esther Rantzen wrote the foreword. In April 2012, she released a fitness DVD, Step In The Right Direction, and its success led to national Dance Day, which fundraises for autism charities.
On 12 May 2012, Anna organised the first talent show of its kind called Autism's Got Talent, which saw children and adults with autism perform on stage to a packed audience at London's Mermaid Theatre. The show included a performance from autistic dancer James Hobley, who had appeared on Britain's Got Talent.
Anna was awarded an OBE in the Queen's Birthday Honours list 2012 for her services to special needs education and autism.
Anna says, 'People with autism shouldn't be hidden. There's nothing to be ashamed of. I want all children, including my own boys, to have the chance to make a mark on the world just like everybody else.'
Our judges said: 'Anna's singlehanded determination to help families living with autism, while also being a full-time carer to her two sons, is truly inspirational."
The Tesco Mum of the Year awards ceremony will be taking place at The Savoy on March 3rd, hosted by Fiona Phillips, with appearances from special guest stars of screen, stage and sport. You can follow the twitter feed on the night via the hashtag #tescomumoftheyear. Th event is also being televised to be shown on Channel 5 on March 10th, very appropriately Mothers Day.
Now for the book giveaway:
I am delighted to be able to offer a giveaway of 20 copies of Anna's book via this blog.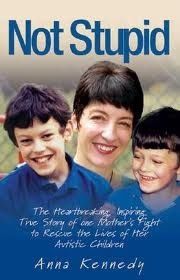 Not Stupid as described above, is a must-read and you will want to laugh and cry at the incredible journey that Anna has taken to secure autism care and support for her local community. I finished reading it and half-wished we lived nearer.
To be in with a chance of receiving a copy of Anna's book, please:
1. Retweet/share this post to Facebook and let me know (@AutismMumma) you have done so,
AND
2. Either leave a comment below or tweet "I'd like to win a copy of #tescomumoftheyear Anna Kennedy's book with @AutismMumma"
(Entries are restricted to UK-only and closing on 10th March at 10pm but the book is available on Amazon as both a paperback and Kindle version)
It would be fantastic if as many people as possible could follow the twitter feed on 3rd March and watch the Channel 5 transmission on March 10th, there are some amazing mums being honoured, please click here for a behind-the-scenes photoshoot.
Thanks very much for reading and for Tesco Magazine for giving me the opportunity to write this blog and host a book giveaway. It goes without saying that RTs and comments (the more. The merrier) would be welcomed! Jx 😘
---
---