I've reviewed a few things for Valentines Day recently. Bearing in mind Mothers Day is advancing quickly, I'm revisiting them here, reviewing some chocolate (now, be honest, who can refuse chocolate on Mothers Day) and giving details of a competition for the children to enter.
If you're looking for a gift for a mum/mum-to-be/carer/grandparent, saying it with flowers is always welcome. We have such dreadful weather in this country, that a look at or a sniff of some pretty blooms can instantly brighten up our day.
Plants4presents.co.uk are a great choice and you can read my review here.
Similarly, foodie gifts are always welcomed and I had the chance to review some absolutely stunning cookies and a cake that fits through your letterbox – see post here.
Chocolate time…who can resist chocolate at any time, never mind Mothers Day and Chocoholics sent me their Bloggers Collection to try out.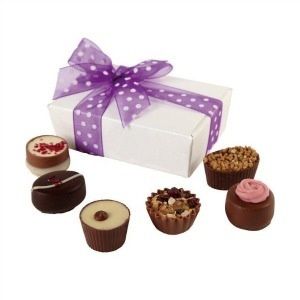 T happily tested these with me and the attention to detail on the individual chocolates was wonderful – see picture below for a cameo-like effect on the bottom of one chocolate. All adding to the general decadent and luxurious element.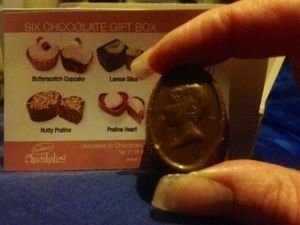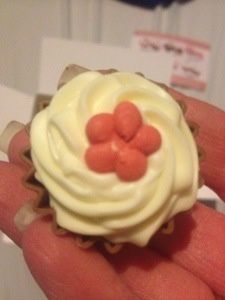 A bit of information about Chocoholics:
"Chocoholics is a UK family business selling chocolates through party plan, mail order and through their website. We have distributors nationwide who sell our chocolates during the main two seasons – Spring (covering Valentine's Day, Mother's Day and Easter) and Winter (covering Halloween and Christmas). With over 500 products across our seasonal range, Celebrations range, Personalised range and Corporate range, Chocoholics has plenty to offer – and constantly works to improve and expand the range to include innovative and exclusive products. Those with special dietary needs will be pleased to hear we also offer a range of gluten free, alcohol free and No Sugar Added chocolates."
The website has a great range of choccie goodies available, I particularly liked the look of the Pink Taster Selection (£18):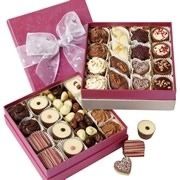 "The Pink Taster Selection is a box filled with all the best bits of the Chocoholics range. Everything from dessert cups, exclusive cupcakes, cocktail chocolates, raisins, caramels and pralines make up this exceptional chocolate tasting experience. Hand packed in a rigid, two-tiered pink presentation box (which a lot of our customers have said they use for their jewellery or make up afterwards!). As with most of our boxes, the ribbons can be customised with the words of your choice."
And the Seven Days Of Heaven (£7.50):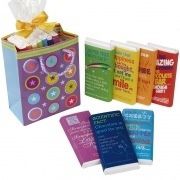 "For the last few years, Chocoholics has been working on a wide selection of personalised products. We can personalise the ribbon, chocolate wrapper or box of your choice, so you can give a really thoughtful gift. We've used this customisation service to create the Seven Days of Heaven set – a selection of chocolate bars with a different message for each day. This is the first season we've launched the collection, but it's going down very well already!"
So, that's a few traditional ideas, but if you fancy something a bit different, a Vinyl Wall Clock with her favourite song is a wonderful idea – see post here.
And now for the competition, this is being run by Kallikids and it's a chance to win £50 of vouchers. I'm not affiliated to the competition in any way but it's a nice chance for children to have a think about their mum and why they love them.
There is a link to the competition here and I've also included the details below.
From the Kallikids site.
"Win £50 Love2Shop vouchers…
My Mummy's the best because…
Mother's Day is only a month away and to celebrate all you fantastic Mum's out there we've got a great competition for the KIDS!
We want them to tell us why their Mummy's the best…
We will select our five favourite answers for Twitter and Facebook visitors to like and share. One lucky winner will be selected on Mothers Day and win £50 Love2Shop vouchers – the perfect gift for any Mum.
The favourite entries will also be used to create a unique poem especially for all you wonderful mums. Your little ones will have their very own poetry collaboration which we will share on our social media sites.
If you would like to send us a picture of you and your little one for us to share please feel free. By sending any images you agree to us using them in advertising and marketing which includes social media sites.
Please let us know in your email if you do not wish to be kept up to date with news and offers from KalliKids.com. We will not share your information with any other parties.
Entries close on the 4th March – online voting will be between the 4th-8th March."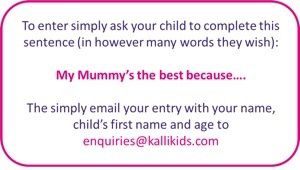 Thanks for reading and good luck if your children enter the competition Jx 😘
---
---