I'll get to why I've given tonight's blog that title shortly.
It's been – on the whole – a successful day. The plan was to locate a replacement FlashWing for D (see Wednesday's post here), have a bit of lunch and then get the train to D's CAMHS appointment.
Things were going to plan until I realised it being half term, the entire pre-teen population had also been buying Skylanders. It took some searching but we found a replacement FlashWing, D was delighted!
Lunch was a mixed bag, D had a little excitement flap whilst at our table, she wasn't noisy – just flapping and giggling – but that was enough for the stares to start and continue. Luckily she doesn't notice but it always makes a chink in my armour.
We were early to the CAMHS appointment, both D and T remembered our previous visit in the summer holidays and therefore felt relaxed. D happily occupied herself on the play stove, there wasn't any play food so she used the play figures that were there to cook instead – hence the blog title! It was lovely to watch and hear her role-playing but I kept thinking "please don't let the psychologist come and get her, what will he think if she's quite happily cooking people?" I'm sure they've seen worse!
The only time D got slightly anxious was when the doctor came out to introduce himself and then said he'd be back in a moment. She visibly got stressed and the receptionist reassured her that the doctor was very nice, which seemed to work and in we toddled.
I wasn't sure how the meeting would go, but I was proud of both T and D. T sat and played on my phone and D answered the doctors questions, although I found that his questions were over-complicated for her at times and felt she found it easier if I simplified them. She isn't very confident with two-stage questions, it's easier on her if you ask one, get the answer and then ask another.
The primary focus was her anxieties and moving forwards, how to deal with them. Lots of buggy questions – why it's used, how often, circumstances etc. I found myself repeating the bolting risk, the time when she nearly got hit by a bus, that my priority is – and always will be – her safety. It did feel like my parenting was being questioned.
Anyway..he wants to see me in two weeks, whilst T and D are at school, to agree strategies once he's spoken to school.
I did emphasise to him that D is a much happier child than the one who got referred by our GP a year ago. This time last year, she was having violent meltdowns, she was being bullied by a classmate with the teacher ignoring it and she was being violent to T. She is a totally different child, we obviously still have anxiety moments but she is much happier at school with a more empathetic teacher and she's able to discuss things more. The next step – I presume – is her being able to discuss things before a bolt/anxious moment/meltdown. BUT she's not yet 9years old and that will all come in due time. (That's probably very rambling, sorry)
A fffffffreezing wait for a train and then, what a journey. A woman got on with her toddler, he was not particularly happy. And, as it turned out, she wasn't with him. The poor child was called an idiot, a turd and told to "shut up" repeatedly. Horrible to hear and I made the children weren't watching as I didn't want them subjected to anything.
Glad to be home. Tomorrow D has an eye check-up with an optician who specialises in seeing SN children. A very patient man whom I've since learnt has a child on the spectrum. I'm sure it will go well.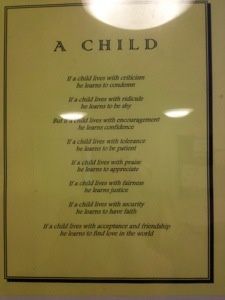 (That picture was on the wall in the waiting room, very true)
I hope everyone's had a good day, comments/RTs/shares as ever welcomed, thanks for reading Jx 😘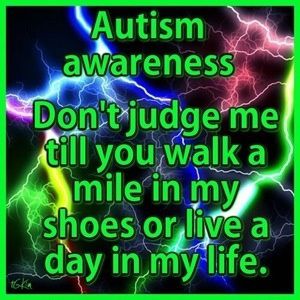 ---
---