I don't normally do this, so please excuse this mish-mash/brain dump. I'm
usually a positive soul but I'm so tired.
I think my body is telling me something, it's been doing it for a while and I should listen to it. (Cue a bit of a pity party) In the last few weeks, I've had tonsillitis, gone head first down the stairs, had inflammation in my hand and all this combined with immense external stresses. I had the best night's sleep in weeks on Tuesday and then Mother-flipping-Nature decides to (ahem) "visit" me a week early. Thanks!
I'm hoping that by starting with Curves soon I'll start to feel better.
Couple all this with parenting two – very individual but wonderful – children with very different requirements, juggling CAMHS appointments, melatonin requests (which either get lost or are wrong), paediatric appointments and a timescale for a diagnosis needed, well….
Of course, I know I'm a lucky J really. Mr Bluecrisps is loyal, protective, hard-working man who I should appreciate more and not snap at. Tiredness and worries take over at times. I wouldn't change my children for the world, but I would change the world for them.
I read a couple of things this week that made me quite sad; one referred to autism as a "terrible disease". This implies to me contagious, curable. Autism is neither. My children will learn how to cope and manage in time – see post here – but autism is a life-long disability, not disease.
Then there was something else, an article in a UK-based magazine but with obvious leanings to overseas readers, talking about "autism prevention". They discussed vaccinations and abortion, which really saddened me. One quick virtual slap later and it just makes me more determined to do what I'm doing, carry on in my own little way, trying to raise awareness and acceptance for everyone on the vast spectrum/who loves someone on there.
So, what is the answer? There isn't one. I'm not on an ego-trip doing this blog, I blog relatively anonymously because I prefer it that way. I use pictures of the children – but their initials – to demonstrate that autism cannot be seen, it's an invisible disability. If my blogging about the ups and downs of our day helps just one person then job done.
But I am switching off more in the evenings, trying to relax either by reading or watching something I wouldn't normally watch.
Last night it was "Meet The Izzards", a fascinating travel through time aided by Eddie Izzard's DNA profile. The programme is worth watching for the tribeswomens obvious joy when they all received painted nails, it puts things into perspective and you can watch a link to T&D programme here.
I started this blog grumpily but I'm finishing positively. My children are healthy and, at this precise moment, happy. That's enough for me.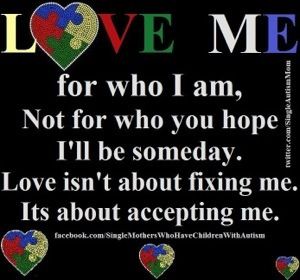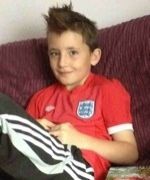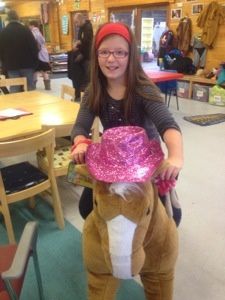 ---
---