Poor D, we had a lovely day yesterday – post here – but overnight she's been obsessing about this: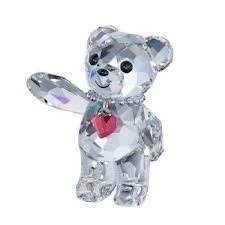 We had crystals being drawn religiously from 2am this morning and, once she'd eventually gone back to sleep after showing me her crystals, the first thing she mentioned on waking was that crystal bear! The Swarovski shop was very visually pleasing; full of nice, shiny, sparkling little bits and pieces but D is completely fixated with them. We're meant to be collecting her new coat on Monday – she's had yet another growth spurt – we may have to detour to avoid going past the shop, for the sake of future sleep.
Little sparkly bear obsessions aside, we've had a good (but tiring) day. D's taken advance of T being out at football to have a go at Skylanders Giants and she likes choosing the girl Skylander characters to play the game. Favourite today has been Sprocket, a tomboy-ish character who bashes the baddies with a big spanner (my kind of gal!):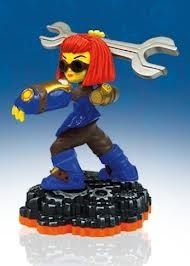 T's had a good day too, his team won 4:2 this morning and then they went to watch a local match this afternoon. A happy, but tired and muddy T returned!
He enjoyed his play date last night but got very cross when he was collected earlier than scheduled – he is an absolute stickler for timetables – and poor Hubbie (who collected him) is one for being everywhere early so it was an emotional, cross T who needed some coaxing to say what was wrong. I'm pleased he had a good time but his traits are becoming more and more apparent and I hope the preliminary appointment for him is scheduled soon.
I've been going through the timetable for D for next week, it being half term. She's familiar with the places for her two medical appointments, I just hope nerves and anxieties don't kick in as we'll be travelling to both by public transport.
So, hoping for a better night's sleep for my D – don't mention crystals! – and that everyone's day has gone well. Comments/RTs/shares are always welcomed and here's the "vote for me" spiel before the first round closes: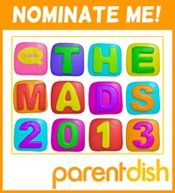 I've been nominated in the the "Best Family Life" category – click here – what I would love is to go through to the next stage, I think it would be a fantastic opportunity to raise the profile for autism awareness and acceptance. To do that, I need your votes by 18th February.
To do this – puuuuuurlease – click here which will take you to the site and then follow the instructions.
You will need to know my URL:
http://www.bluecrisps.wordpress.com
Or
http://www.autismmumma.com
The lovely MADs people have said either URL will do as both are registered.
Thank you for reading Jx 😘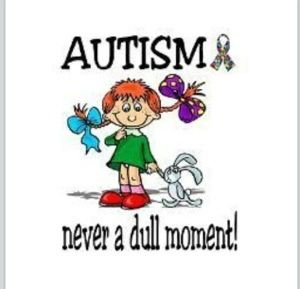 ---
---