One of my reasons for having two blogs – the autism awareness blog and the lifestyle blog – was that certain products and posts would fit better on one than the other, this product fits nicely onto both.
Having sensitive skin myself and a daughter who's skin is even more sensitive, plus her sensory issues, I was pleased to be asked to trial these: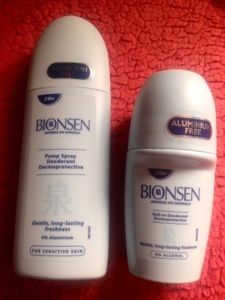 Bionsen have created a hypoallergenic-approved formula using "vital minerals found in the volcanic spas of Japan (known as "Onsen"), long prized for their ability to nourish the skin and keep it healthy."
Well, D and I have been testing these all week with no sensitive-skin after effects. There is a very faint fresh-smelling fragrance to the deodorants and she's worn it during the day at school during PE etc and I've worn it during the heavy-buggy-pushing school runs, it passed the test! I'm confident that once I start my sessions at Curves, it will also keep me fresh.
How the deodorants work (taken from the website):
"Bionsen is specially formulated to be naturally protective. Using natural minerals, Bionsen effectively neutralises the bacteria responsible for bad odours, and it keeps them at bay all day long.
Using natural minerals
Spa minerals have long been regarded as highly nourishing and protective for the skin. These natural minerals are found in volcanic spas (known as "Onsen"), and include elements of zinc, copper and manganese. For centuries, the Japanese have recognised the health-giving properties of these minerals and even today, continue the ancient tradition of bathing in mineral spas to nourish and soothe skin.
How Bionsen works
Bionsen is a deodorant, so it doesn't stop your body from sweating like an anti-perspirant sweating is a natural cooling and detoxifying process needed to keep the body healthy. Bionsen simply prevents bacteria from growing and is as effective at neutralising body odours as the leading brands.
Bionsen is aluminium and paraben free. It's dermatologically tested and its hypoallergenic formula is perfect for even the most sensitive skin."
I've been trialling the pump spray bottle (and it's a gentle spray, unlike the sudden harsh sting of an aerosol) and D has been using the roll-on. I like the thought that both are paraben and aluminium free too.
The RRP for the roll-on is £2.35 and £2.75 for the pump spray, both are now available in Morrisons as well as Boots and other leading supermarkets plus online at www.bionsen.co.uk.
Having an ever-growing daughter who has sensory issues and related anxieties, it's good to know we've found a product that suits her.
Disclaimer:
We received a roll-on and a pump spray deodorant for the purpose of this trial.
---
---