That was T's question this morning and "why do people send them?" It was the topic of conversation all the way to his school. I don't go along with the "buy a bunch of roses for THREE times the price" – much prefer lilies or freesias anyway – and people shouldn't wait until the one day to say they love their partner, tell them all year around!
I did say to T though that once he's in a relationship, he will need to send a card otherwise his partner would get upset. All that seems a long way off for my football and stats-mad little man.
He's a happy chappie though generally, he's going to the cinema with a schoolmate after school tomorrow and what with that and half term next week, he's looking forward to both.
D's had a good day too, there wasn't any music greeting us in school but she saw her TAs in the corridor before we got to class and rushed to give them a hug, bless her. She went off very happily to music, where apparently she was recorded singing as part of her music therapy, we should receive it after half term, really looking forward to seeing our little songbird singing.
I got my body-slam at the end of the day, no incidences with the other child today. She's drawn a lovely picture of her and her current "boyfriend", he's a cutie, same age as D but at least a head height shorter.
This is the two of them, according to D (awwwwww!):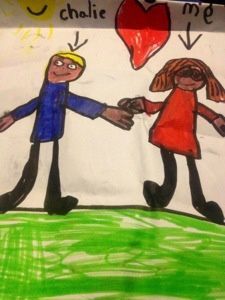 She's really pleased to have an inset day tomorrow and half term next week. She's become fixated about a stuffed owl toy that she's seen on Amazon and has told everyone (staff, pupils, random mums that we see in passing) that her parcel will come in half term. I'm always slightly reluctant to give in to fads because the toys in question get looked at once, never played with and then ignored, but she does seem to be very keen on this owl toy.
She's settling very happily now after a singsong – Proclaimers "500 miles", which they sing in school.
Hopefully we'll have a good day tomorrow.
A slight plug for the MADs now:
Just a reminder that if you've enjoyed the blog tonight, please vote for me at: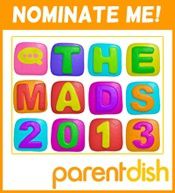 I've been nominated in the the "Best Family Life" category – post here – what I would love is to go through to the next stage, I think it would be a fantastic opportunity to raise the profile for autism awareness and acceptance. To do that, I need your votes by 18th February.
To do this – puuuuuurlease – click here which will take you to the site and then follow the instructions.
You will need to know my URL:
http://www.bluecrisps.wordpress.com
Or
http://www.autismmumma.com
The lovely MADs people have said either URL will do as both are registered. Thank you.
Tonight's end picture was sent to me today and it's true, there's never a dull moment! This picture also really appealed to me as the girl has her bunny and so does D, they're inseparable.
I hope everyone's had a good day, comments/RTs/shares welcome, thanks for reading Jx 😘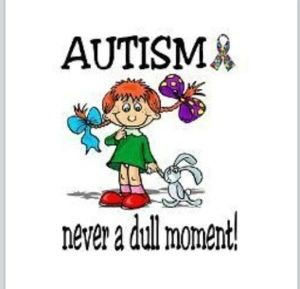 ---