Every so often something happens within the blogging community that makes you want to SQUEAL with excitement and pride.
Last week was one of those moments when #thesecretthing was revealed.
The Secret Thing was for Red Nose Day, and three wonderful blogging ladies (aka #TeamHonk – @mummybarrow @mammasaurus and @aresidence) headed off to Ghana for two days to visit 4 projects and see the #goodwork that Red Nose Day has performed during the last 25 years.
They are now all safely back home and I have been lucky enough to receive a digital post card from a health centre in Ghana they visited to share with you all.
My postcard came from Penny @aresidence: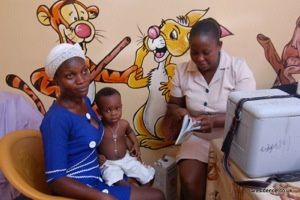 "Dear Jeannette
What a beautiful baby and proud mum. Nurses in action at the Health Centre here in Ghana, putting mums and babies at ease as they give vaccinations. Diarrhoea accounts for 10% of deaths among Ghana's under-fives. Rotavirus, which causes gastroenteritis, can lead to severe dehydration and accounts for 40% of these diarrhoea-related deaths.[i]
Comic Relief has given GAVI a grant of $200,000 to provide rotavirus vaccine in Ghana to help prevent against this potentially fatal condition.
Love Penny"
This is a digital postcard sent from Team Honk during their travels with Comic Relief in Ghana celebrating #goodwork.
For the past 25 years the money raised through Red Nose Day has been changing the lives of the poorest and most disadvantaged people in the UK and Africa. Let's Keep Up the Good Work. Find out how at rednoseday.com
For other digital postcards please do join up and check out the linky on teamhonk.org
---
---