Today's "Book Worm Wednesday" is written once again by 10year old T, he absolutely loves reading, something I'm really pleased about.
A report in September 2012 indicated that "children and teenagers were embarrassed to read" – read the report here – so I hope it's something that he doesn't grow out of/feel pressurised to.
T's review today is "Diary of a Wimpy Kid, Dog Days" by Jeff Kinney, as before these are his words and I've made minor cosmetic adjustments.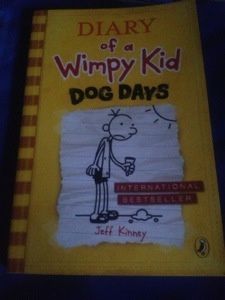 When Greg and Rowley put money he has to pay on Rowley's dad's country club membership card, Greg and Rowley owe him a total of £63. Greg and Rowley start brainstorming ideas for ways to earn money.
They eventually come up with a company called the V.I.P lawn service. So they make flyers and let people in the neighbourhood know about it. Greg figured they could start things up again in the winter. But Rowley got fired on the spot. Greg called the winter company the VIP snow removal.
Greg had earned a few pounds since Rowley had left. But will Greg earn enough money in time or will he suffer a severe punishment from his parents?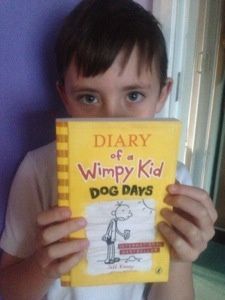 Thanks for reading, this was postponed from last Wednesday Jx 😘
---
---