It wasn't a great start to the day today, Mr H didn't want his mum to leave this morning so we had tears, screams and finally a toddler tantrum. All at just past 8am.
D's initial reaction was to get away from the situation (don't blame her tbh) and it impacted on the school run and how she went into her class this morning – some coaxing required from a TA.
I went away hoping she'd be okay, feeling guilty about how the morning had affected her. You just can't beat a mother's guilt.
Things have slightly moved along with CAMHS today. After playing telephone-tennis for a few days, we've got a follow-up meeting arranged for February for D and the lady I spoke to confirmed that they've received T's referral. Mixed feelings for our little man but I know that we are up against a deadline what with secondary school looming for T from September 2014 (which sounds ages away, but the decisions about a school need to be made in under a year and any potential diagnosis would impact that).
They both had good days at their separate schools. D's still deciding which of her classmates she's going to marry – but not until she's 18 apparently, phew! T's excited because he's doing "Coding club" after school tomorrow, perfect for his constantly-needing-new-challenges brain.
D was a very happy girl this afternoon, as well as her wedding obsession, she's also very keen on keys and locks. I found a necklace reduced in John Lewis to £12 and because there was a stone missing, they sold it to me for £3, absolute bargain!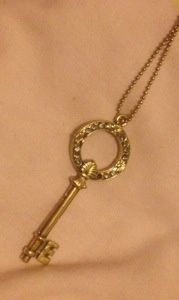 Bearing in mind it's going to be worn constantly and other stones will no doubt loosen, it's perfect for my girlie girl.
She's been very happily trying her key out in door locks etc and concluded that she needs a pretty lock with a key. So, that's my next challenge….suggestions please for ornate working locks (and keys)!
So, I'm grateful that this morning didn't impact on this afternoon too much. I hope everyone's had a good day, comments/RTs/shares as ever welcomed, thanks for reading Jx 😘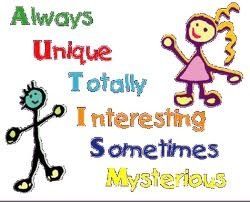 ---
---