As you will have probably gathered from the title, T has again written this week's Book Worm Wednesday. So, Tra-la-la! It's "Captain Underpants and The Revolting Revenge of The Radioactive Robo-Boxers" (the titles are enough to make you giggle!)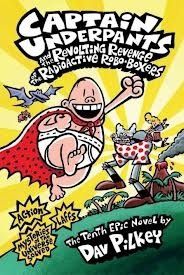 Over to T, apart from minor cosmetic adjustments, these are his words:
"Book 10: In our last adventure, Tippy Tinkletrousers and his time-travelling high-jinks changed the course of human history for ever, resulting in the destruction of Captain Underpants.
Following this, George and Harold, (and their two pets) Crackers and Sulu will have to figure a way to change it back.
George and Harold realised Crackers and Sulu were suffering so they decided to take Crackers back to the Mesozoic era, (because he was a pterodactyl). But Mr Krupp – the school principal – chased after the four friends as they locked the door so he couldn't get in. George and Harold found the time machine and set it to 65 million years ago and pulled the chain. But Mr Krupp had got in and when the time machine took off so he went as well…
Tippy had found out where they were going and used his time machine to chase after them. When they reached their destination, Tippy had arrived first.
The time machine had landed on a massive tree and Tippy started kicking the tree with his massive leg. The time machine fell and broke. The chase was on. Tippy started chasing our heroes. Mr Krupp was there too and when George snapped his fingers, Mr Krupp suddenly turned into the superhero named Captain Underpants. He was back!
With our heroes in the Mesozoic era, will our heroes get out before Tippy strikes revenge…"
I don't know about anyone else, but that's got me interested in finding out more, well done T!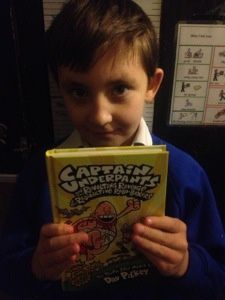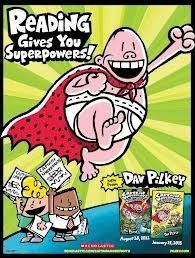 For more information on the author, Dav Pilkey, you can check out his website here..
Thanks for reading Jx 😘 comments/RTs/shares welcomed.
---
---