A couple of blippy-blips but, on the whole, it's been a lovely day.
D's school was closed all day and T's closed from 1.30pm. D was absolutely delighted this morning to find there was no school and very happily participated in a "Mile For Autism" today, please click here to read the post.
Because the roads and pavements were clear of traffic and – more importantly for D with her stranger anxieties – people, she walked about 90% of the way to and from the shops. Or rather, ran-stopped-gathered snow-flung snow etc.
The pictures speak for themselves as to how much she enjoyed it: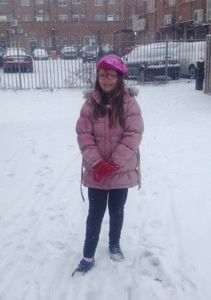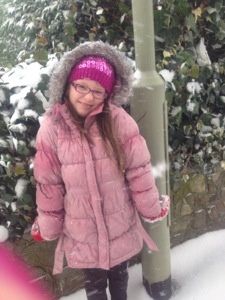 Extremely proud of her. She hopped into big buggy (which passed its snow test admirably) as we neared the shops and stayed in it, snuggled with purple monkey cuddleuppet right over her head going around the shops. It was busy, people panic-buying (they must have all come from the other end, bizarre). Once we'd finished she walked back, still gathering the snow, still very relaxed.
As soon as we got home, she wanted to build a snowman in the back garden. I'd taken a picture of the garden at 845am so we would compare how much snow would fall until we got back, the answer was ….lots!
Here's D's snowman, all her own work and teeny tiny!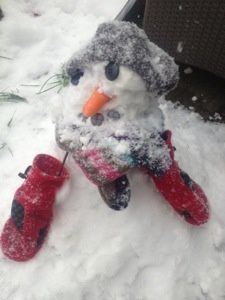 She wanted a picture taken and printed out as soon as possible afterwards. She says she's going to keep the picture in a box, with the hat and scarf once the snowman's melted, ready for next year. She's got this idea from watching "The Snowman and the Snowdog" at Christmas. She has been wondering if her snowman will come alive at night too..
T was overjoyed to be out of school earlier and they both went outside for snow fun. Real progress for D as she's always remembered the time when T threw a snowball in her face and she'd always refused since to play in the snow with him. They were both happy to just scoop and fling the snow until…her snowman picture got wet and then she slipped – blaming T – cue a very wet, angry D stomping snow all through the house.
Like most children, T and D don't realise how cold they are until they stop playing in snow, brrrr!
Little upsets forgotten, we're going to laminate another snowman picture tomorrow and no doubt there will be plenty of snow play! Think we'll give the sledges a go tomorrow, bit of muscle work for the shoulders!
So, yes, snow is extremely disruptive and it brings the country to a virtual standstill (despite prior notice) but it's been lovely for the children.
I hope everyone's had a good day, comments/RTs/shares as ever welcomed, thanks for reading Jx 😘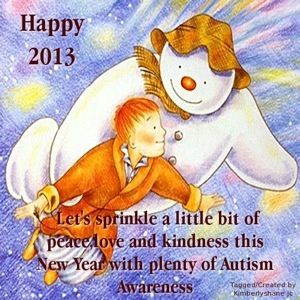 ---
---