One of the great things about connecting online is finding out about companies that offer items of interest.
One such company is Explore Your Senses and they very kindly sent me some samples and a catalogue for D, T and I to have a look at.
I'm always very keen to find out about new products that will "encourage children's natural curiosity to explore the senses – such as touch, sight, sound and smell". Having a child with heightened sensory awareness (D), it's also useful to look at toys that will not only engage her, but calm her too.
D's favourites from what we were sent were: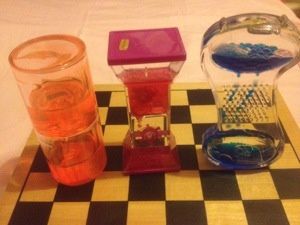 From left to right:
Orange oozy tube – the gunge oozes from the top chamber to the one below and then back again once upturned. The consistency of the gunge changes with temperature and we've experimented with standing the tube on a sunny (ish) windowsill and putting it in the fridge. Comes in two sizes and four colours, we'll be ordering some!
Pink liquid visual timer – D really enjoys watching the oil droplets passing through the wheels. Available in three colours.
Blue jump bean timer – Again, D has enjoyed watching the droplets passing through the ridges to the base. Available in four colours.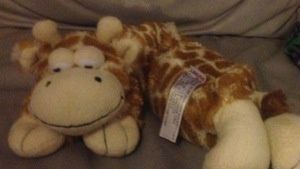 The above picture is of a Heat Up Neck Warmer – Gemma Giraffe.
I think this is D's favourite. We don't use the neck warmer element but she really enjoys wrapping the giraffe around her neck and feeling the weighted benefit. I've also encouraged her to bash something soft with it when she is overcome with anxieties and we're at home (only something soft things and not people!)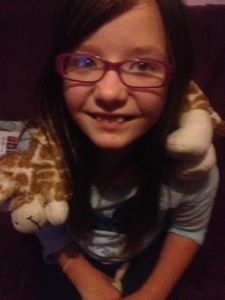 There is a vast range of items contained in their catalogue. The index at the front is very useful and easy to follow.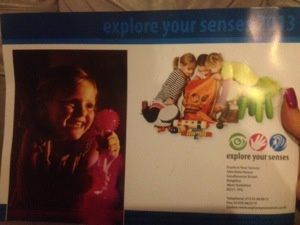 Explore Your Senses are on Facebook and Twitter (@exploreursenses) or by telephone 01535 662812.
Disclaimer: we were sent some samples that had previously been opened and used for photographs. I have not been paid for this review.
---
---