Every so often a new product comes along that is so beneficial but so simple, you wish (wish) you'd had the idea.
This is one such product:
From the website:
"Belt Up Kidz is a retrofit buckle that helps prevent young children from removing their arms from the shoulder straps of their Car Seats, Buggies, Highchairs and Trikes etc"
It's very simple to use:
Side clasps open and closed, works on pressure points (where my fingers are):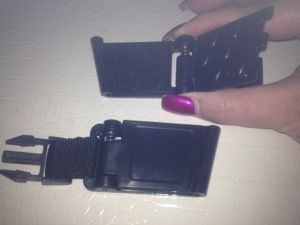 Once secured, the buckle is very secure and can be adjusted both to allow growth in the chest area and moved up the strap as the child gets taller.
D really enjoyed trailing these, they made her feel safe and secure.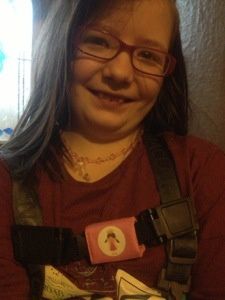 She also liked the fairy on the cover, there is also a pretty cool dinosaur option on the blue cover.
A wonderful product to give parents extra piece of mind, when used in conjunction with car seats, buggies, highchairs etc. Perfect for those with wriggly children and those who like to feel secure.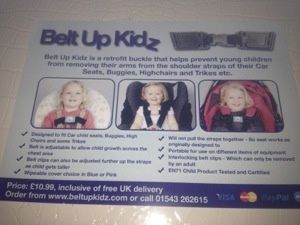 The Belt Up Kidz retrofit buckles are available from the website or by calling 01543 262615, priced at £10.99 which includes free UK delivery.
Disclaimer: I was sent two buckles for the purpose of this review.
---
---