Thank you firstly to those who read T's BookWorm Wednesday, he had a response from the author of the book so he was very pleased – love his little shy smiles 😘
We did the dreaded trip-into-town today, T and D had Christmas book vouchers to spend and we tend to avoid town at the weekend – way too many people for D.
A (what would be) simple trip is never that. We have to consider T's need to know EXACTLY where we are going and in what order and D's refusal to go anywhere near a public toilet – stranger anxiety and an extreme fear of "noisy", which is what she calls hand-dryers.
It always disappoints me, travelling on the bus with D. There are usually little babies in their buggies too, getting cooed over and smiled at by the other passengers; D – also in a buggy – doesn't get smiled at, just stared at and whispered about. A definite need for autism awareness! But how? How can I expect these people to understand when they can't see autism? And even if they did, would they link back to the massacre in Connecticut and damn my children?
In the end town was very very busy but we managed. They choose their gift voucher goodies and D had a go on a "Ben and Holly" ride-on, cheeky little monkey grin! She was a bit too big for it really but she loved it!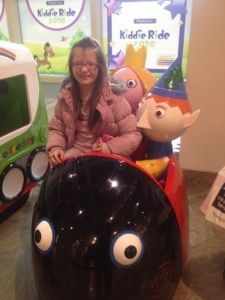 D did do a bit of walking, holding very tightly onto my hand. She manages until someone gets close and her hand physically tenses and tightens and then she'll want (and need) to get back to her buggy – her sanctuary.
It was way way too busy to grab a coffee anywhere (I hadn't been in a Costa since 21st December *shocked face*. I do have a mocha reputation to uphold!) so we detoured back via the shopping centre and went in. T very very unhappy by this change but once he'd had a snack and a play on "Angry Birds Star Wars" he forgave me.
We found this fab way to use up some 10-year old's energy on the way back.. Batting a balloon around a slightly windy field! Lots of fun and T was haring around everywhere. Soon put a smile on his face!
I'm feeling very positive about this year. I know there are going to be challenges but I'm going to face them head-on and get through it.
I hope everyone's had a good day, please use the share buttons below to RT/comment. One of my spam comments recently said how "boring the titles were" blah blah. So that's why I've re-arranged them a bit.
Thanks for reading Jx 😘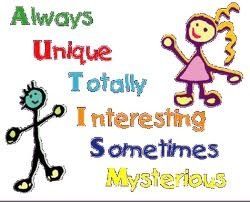 ---
---