Today's "BookWorm Wednesday" is once again supplied by T (my 10 year old) – he asked for and received loads of books for Christmas – and it's a way of utilising his brain cells during the holidays too.
Over to T (as before these are his words, I've made minor cosmetic adjustments):
Astrosaurs: The T. Rex invasion
Author: Steve Cole
When Teggs and his crew are on holiday in the spooky stone planet of Sphinx II, Teggs meets his old friend, Tute.
Tute says he discovered a pyramid and Teggs is willing to investigate. Tute said that the pyramid used to belong to the T.Rex's years back and Lord Ganster discovered it a thousand years ago.
When Teggs, Tute and the crew get there, they spot a T.Rex mummy! But as it disappears in the distance, Teggs, Arx and Tute discover the way in.
Meanwhile, Iggy and Gipsy are investigating a warship that was found a few miles away. But the pair are only lucky enough to fall into a trap led by a large T.Rex bearing his teeth – the terrifying Skunch.
Back at the pyramid, Teggs, Arx and Tute were passing a series of tests eg. dodging laser beams. But the hardest came to building an alien engine. As the lights kept going out to signal the start of a bomb exploding, the three finished a few jewels before. But an alien named Keprish has been controlling Lord Ganster and the mummies.
With Keprish's power and the T.Rex invasion troops hard on their heels, will the Astrosaurs and Tute ever get out alive?….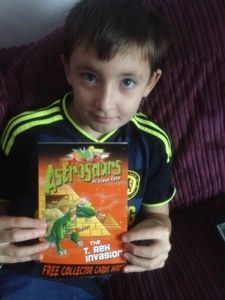 Thanks for reading, I'm sure he'd appreciate comments Jx 😘
He was delighted that Steve Cole read his review: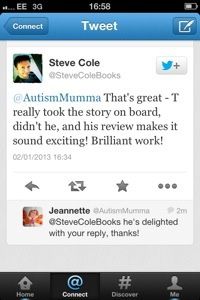 ---
---