So…we're in the last day of 2012, a time for reflection, a time for looking back and moving forwards (which coincidentally was the title of one of my first ever blog posts).
Of course, it (civilisation) was all meant to be over on Friday 21st December – times varied according to which radio station/TV programme you watched. I can imagine some people being extremely scared and worried and the only true beneficiaries of this prophesy were the inhabitants surrounding a "chosen" mountain from which UFOs would supposedly take off with a chosen few – there must have been journalists supping a fair few lagers on expenses – and direct descendants of the Mayan tribe itself. It spoke volumes about society today when one of the tribe broke off from his chanting to take a call on his mobile!
Personally and in a blogging capacity, I've learnt a lot this year. My recent post for Groovy Mums detailed my personal highs and lows of 2012. As a special needs parent/carer and blogger I am so so glad I connected with parents/carers/individuals on the spectrum, I have learnt so much from everyone and individual insights/tips/support are invaluable.
I'm going to include my "Music Monday" in this post too, as it's very relevant. Life is a roller-coaster by Ronan Keating. I made Hubbie laugh by asking him to guess it and as a clue I said "it was from when we were courting" – can you tell I watched Downton Abbey recently?!?
Life is a roller-coaster (the title) describes parenting SN children to a tee. There is either (for the children) happiness (at the top) or anxieties and sadness (down the bottom), no real in-between. I also like the various spinning tree shots in the video, it reminds me of travelling to see my grandparents, there was always a road we drove down with trees interlocking each other overhead and I always knew we were nearly there. We'd always be travelling in early evening so the sun would be setting through the trees too.
Mushy moment over!
I'd like to mention some posts below that I wrote earlier this year – before I knew how to link!
Some that made me laugh, some that made me cry as I wrote them:
United we stand…divided we fall
Twitter and how it's helped me – one year on
My favourite post;
The camera DOES lie
My most read post and an example of the autism community working together;
Dear 50 Cent: This is what Autism looks like
And an update to the 50 Cent post:
Dear 50cent – an update
Enough blowing my own trumpet! I want to wish everyone a very Happy New Year and good wishes for 2013, onwards and upwards.
Thank you so much for the RTs, comments and shares in 2012, please use the buttons below if you would like to.
Happy New Year from all the Bluecrisps! 😘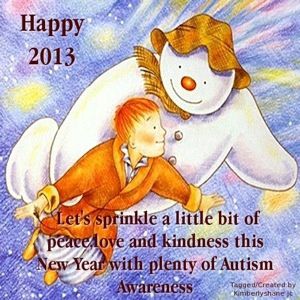 (Thanks to @epilepsymummy for the pic)
---
---