Hello! Did you miss me?
We've had a fab low-key Christmas and it's been nice to watch some Christmas TV (some better than others..) without worrying about a 9pm deadline.
Don't worry, this isn't a blow-by-blow account, just our highlights and funny bits.
Christmas Eve night and …all through the house, everything was silent – apart from Mr Bluecrisps snoring – until "Santa" aka moi decided to do the stockings and got hiccups. Not little genteel ones either but parrot-squawk type ones (goodness knows why)! I had to tiptoe into bedrooms, trying to surpress them. Fine for D's room but "squawk-hic" and up bobbed T's head! Drat and double-drat but he settled back down immediately, phew!
Christmas morning and everyone was very happy with their stockings. I'd been very careful to get T and D the same amount and similar as my stat-man is very quick to notice discrepancies. They had little things like notebooks, blue-tack, choccie, piece of fruit and an Angry Birds annual each, which kept them both occupied.
Here was mine, thanks Santa 😜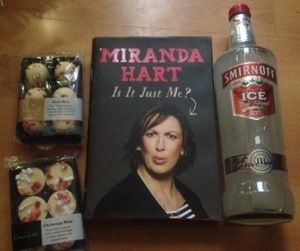 T is so funny. I noticed the "how many more sleeps until Christmas" sign and said we can take that down and T replied "well, we can keep it there because its 364 sleeps until next Christmas!" – he did have a point but then it was worked out in days, hours, minutes and seconds! My stat-man!
Christmas lunch for us was a traditional meal, for T and D – as indicated in my #taa Christmas post wasn't going to be a roast (neither of them would eat it, sensory issues etc) so this was their lunch: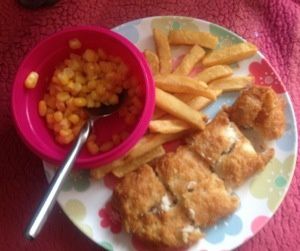 Similarly this was our Christmas "pudding" (at the bottom of the post) something that I knew we'd all eat and, for a certain young lady who is "Ice Age Scrat" mad, it was very appealing.
As far as presents went, again I was very sure to get similar – both in amounts and shape. I couldn't get what I wanted to get both (thanks, Apple, next year..) so they both had DS games, Ps3 games, books etc. Gifts that I knew they'd enjoy. And they did😃👍.
Another T-ism, I'd cooked the Christmaa meat the day before so that resulted in a much reduced time in the kitchen in the morning. They normally have lunch at 12noon (exactly, no deviance) and T said
"can we have lunch earlier today as it's Christmas?"
"What time would you like it, T?"
"Ummm, a bit earlier, say 11.55am?"
Bless him and achieved!
Slight fail in that I couldn't find any decent crackers but twitter saved the day with it's #crackerjokes hashtag, see my round-up of the best here.
The rest of our time has been lovely, family time. Very few meltdowns apart from one today from D and they've looked at each others games without incident and generally got on.
This arrived today, which fits in nicely with "Operation Snowman" and D's current Raymond Briggs Snowman/Father Christmas obsession, it's a wonderful book, with a rhyming story of the advert and pictures: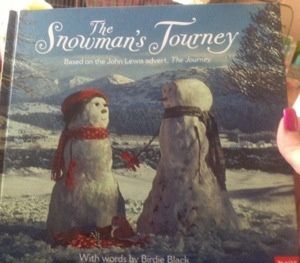 Bunny's had a good time too, remote hogging!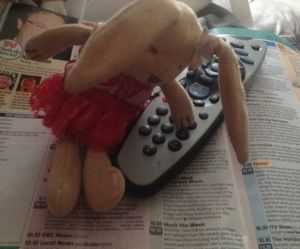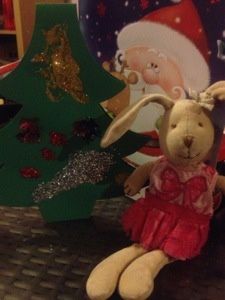 And this was our pair today: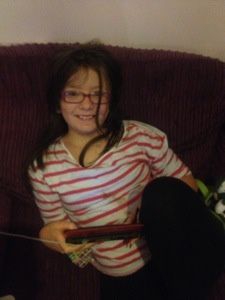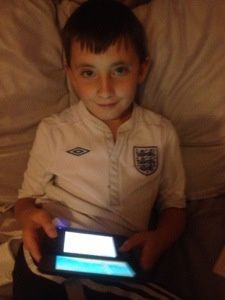 Happy days…we're got our health (apart from colds), MIL is out of hospital but very frail and we were together…Christmas 2012 was good.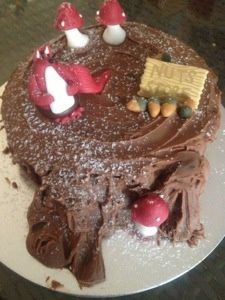 I hope everyone's festivities have gone well, please use the buttons below to comment/RT/share, thanks for reading Jx 😘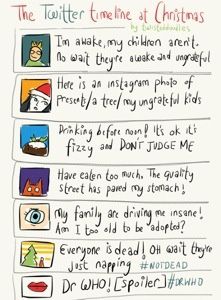 (Final picture via twisteddoodles)
---
---