I will get to the "vampire" bit at the end of tonight's blog!
I'm very proud of T for today's "BookWorm Wednesday", please scroll down and have a read if you haven't seen it. As I said in the post, he has requested loads of books for Christmas so there will be plenty more bookworm posts from him, I'm sure.
I'm mega proud of D, she had her school Christmas cards to write tonight. She was extremely specific about who she was sending cards too, any suggestions she didn't like were met with a firm "no" and a crossing-off from the list.
So, she had about 12 to do and she sat there and wrote "Love D xx", without complaining, bless her.
And I'm extremely proud of this: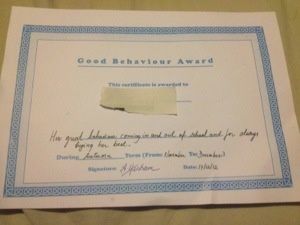 A "Good Behaviour" award from school. This was the prize she chose: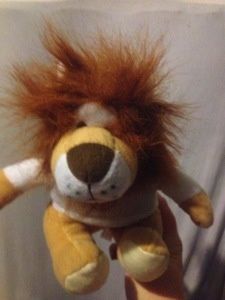 There was also the Christmas lunches at both T and D's schools, both had their usual packed lunches and both had the same cracker toy, bizarrely: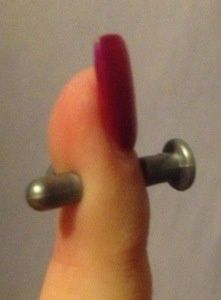 and there have been plenty of "aargh, what's happened to my finger….joke!" moments, which because they're happy you go along (and along with).
I'd better get to the "vampire" bit…decided to have a teeny pamper today, an eyebrow thread and tint. I'm so blooming blonde that a tint just brings them out a bit. I normally have "normal" but today went a tad darker. I'd love semi-permanent make-up but lots of £££ I imagine.
Bit of a mistake, although they look a bit "TOWIE", they're okay and will fade. D hates them. As soon as I walked into her class and she saw me, she was bolting all around the classroom. Once she was calm she told me that they are vampire eyebrows and it's not Halloween so I shouldn't have them. Every time she's looked at me tonight she's asked me when they are going to fade 🙁

I don't think they're that bad, but I'd better whack the powder on them tomorrow! Poor D, she knew (I presume) that it was me but just couldn't handle the change – albeit small and acceptable to others. Hey ho, I've promised I'll warn her in advance of sudden changes in future. So nothing suddenly drastic for me!!
So, vampire Mumma aside (oh, the guilt) it's been a good day.
Final image tonight via Paul @aspienaut, please check out his very insightful blogs if you don't already.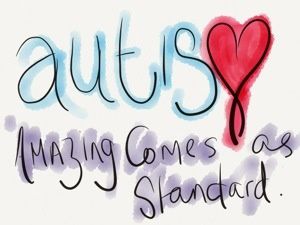 Thanks for reading, comments/RTs/shares as ever welcomed, I hope everyone's had a productive day Jx 😘
---
---