Awww my cute D, she's had a lovely end to the day, singing "Merry Christmas Everybody" by Slade continuously. Oh yes, continuously. But it's so nice to see her happy and looking forward to Christmas.
Both her and D had their Christmas class parties today and this is where they vary so much…with T, I got a shrug and "it was okay", with D, I've had (with prompts) details of the party games they played and who won (hmmm not entirely sure about the competitive element), the food (she loved the food) and a visit from Father Christmas:
"Mumma, I don't think he was the real Father Christmas"
"Oh" *heart sinks* "why's that D?"
"Because he wasn't wearing glasses"
"Perhaps he left them in his sleigh?"
"Oh yes!"
Phew! I don't want the mystique completely shattered already, not yet, not when she's only just getting into the whole festivities.
I'm not sure what either of them have planned at school tomorrow, now that the plays/carol concerts and parties are out of the way. Maybe some more "The Snowman" screenings, yes, we had that again after school today, followed by "Father Christmas".
A slightly sour note on the way back though. We have to go past T and D's old school (she was moved to SN two years ago and he moved one year ago because they weren't accommodating his high level of intellect, kept promising, didn't deliver). Three girls walked past, two sisters and another, one had been in T's class and due to her age, had been in nursery with D, both sisters looked pointedly at her, looked between themselves and
laughed mockingly. I HATE that, it makes all my "warriorness" boil up. Why do children do that? An awful lot of SN children have left that school in the last couple of years and I really don't think they are equipped to accommodate SN children, despite assurances given at the time. The sad thing is, they lose the statemented SN children, they lose the budget allocation so it's the other children who will ultimately suffer. Rant over. The girls' mother was (I don't know if she still is) a governor at that school. Nice.
Ignorance will always be around but I guess it's a question of focussing on the positive, not the negative. Both T and D have had a good evening, T has written a fab BookWorm Wednesday for tomorrow and if they're happy, I'm happy.
I hope everyone's had a good day, comments/RTs/shares as ever welcomed, thanks for reading Jx 😘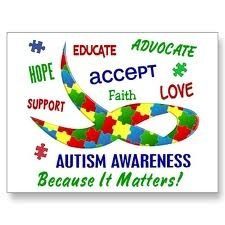 ---
---