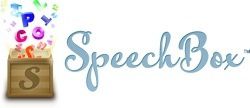 I really enjoy reviewing and sharing apps on the blog and some of the most simple ideas are the best ones.
SpeechBox was designed by the father of a young child with Apraxia of Speech – clink on the link for more information – and the app's aim was to create a simple, flexible app that could be practised with his child.
The App is extremely simple to use and includes many features that encourage speech. It could not be easier to use "simply tap on a box and it displays its contents". There are over 700 different images and there is also the facility to add your own pictures and completely customise to your child.
Retailing at $19.99 in the App Store but there is a discount for the holidays.
Disclaimer:
I was sent a code for the app, I have not been paid for this review and these are my words.
---
---