…or I would, if I had one!
Two weeks today until Christmas Eve and despite the fact we are having a much-reduced Christmas in the Bluecrisps household, it's easy to get sucked into the general panic of other people.
We don't really NEED a Heston Blummenthal Christmas cake that looks like a Christmas pudding but because it's out of stock in our local Waitrose, my brain seems to think we MUST have one. And they're not cheap either.
Hubbie will say "what meat are we having Christmas Day?" cos I like to be a bit rebellious and not have turkey – not least because you're eating turkey sandwiches, turkey curry, turkey pie, turkey soup etc for weeks afterwards. Last year we had beef – yummy Yorkshire puds, horseradish, peppercorn sauce etc – no idea for this year yet, I'll get inspired soon (I hope), otherwise it will be cheese on toast, which might be what we have if I get my hands on a Heston cake!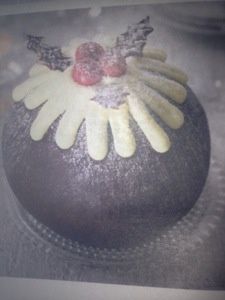 Our day, anyway:
D was full of anxieties around her blood tests tomorrow, she thinks they're going to take all her blood out and nothing would reassure her. She, luckily, was distracted by stars on the Christmas tree in school's reception and went off happily.
I decided to ask the doctors if I could have a phial that the nurses use for blood collection, to show D that it wasn't going to be a massive amount – easier said than done. The nurse was very dismissive and said I should go on the Internet and tell her that as soon as she moves about it's replaced. Well yes, true, but when you're dealing with a child who is basically extremely scared and anxious about the procedure and the out-of-routine elements, any rational explanation disappears.
Eventually she gave me one phial: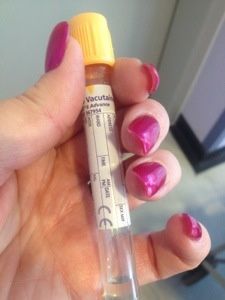 and this will demonstrate visually to D that it's a tiny amount.
Which has worked, a bit, this evening. We've shown with water that it's a very small quantity and, if D is distracted by apps and games on my phone (which is the plan), she won't see it happening anyway *fingers and toes tightly crossed*.
D has her performance as Mary to school tomorrow and to parents on Wednesday *squeal*, a post I shared earlier "Here comes the Sun – and I don't mean the paper" demonstrates just how far she's come in the last couple of years.
T has his carol singing on Wednesday evening, he has to wear a waistcoat, something he is not comfortable with at all.
Proud of them both, they've both got challenges to overcome in the next couple of days.
I hope everyone's had a good day, comments/RTs/shares as ever welcomed, thanks for reading Jx 😘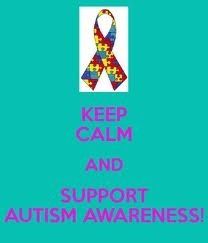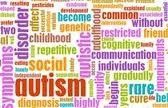 ---
---