I was very kindly sent a code for the Grace App to review, this is available on iTunes and is listed as a "Picture Exchange for Non-Verbal People".
This is how it's described:
"Grace App is a non-speaking, simple picture exchange system developed for people with Autism to communicate their needs independently. Users can select pictures to form a semantic sentence which they can then share, by tilting the iPhone or iPod touch to create a full screen view, and pointing at each card to hear the listener read each word….With practice, the user learns to attempt their own vocalisations with the pictures serving as a back-up or prompt. The goal of the Grace App is to encourage independent social interaction with the user taking control of what they want to say….Grace App comes with a basic vocabulary of pictures but it can be fully customised using the device camera, stored photographs or images saved from the Internet and added to your device album".
The simplicity of the App makes it both very easy to use and the pictures are visually appealing and instantly recognisable. The fact that you can add your own pictures is a massive bonus for any child, a sentence example for D would be: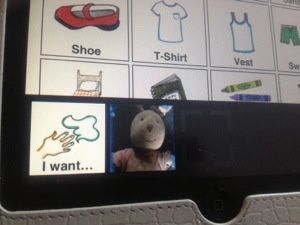 "I want Bunny".
The no-noise element of the App – just a simple click when a picture is put into place – is advantageous to those children who are sensitive to noise and the ease with which you can access it
– iPhone, iPod touch or iPad – would be a positive alternative to carrying a PECs folder around.
The App also has a free PDF manual available which includes an excellent easy-to-follow guide for introducing a communication system, reinforcement tips etc.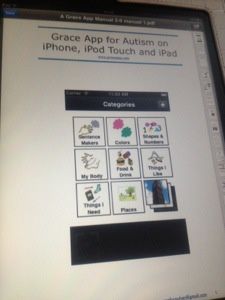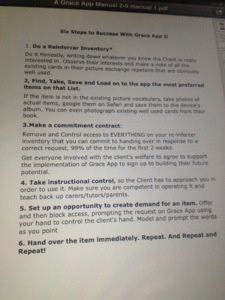 I am very fortunate that D is verbal – although during times of anxiety she cannot always verbalise her distress – and can only imagine the challenges that parents of non-verbal children face. This App would be a benefit.
Disclaimer:
I received a download code for the Grace App. These are my own words (apart from the description) and I have not been paid for my views.
---
---