*stands up and puts hand up* My daughter has autism and is a chewer; a biter; a "pick her cuticles" and a sleeve twister. All calming mechanisms for her when she's feeling anxious – some painful to her, and to me.
I've tried many "calming" toys – balls of pull-able rubber, little rubber bendy men – lots of things but D would always go back to chewing/biting/picking.
We were very kindly sent a bracelet and necklace set by Chewigem and I was really impressed by them.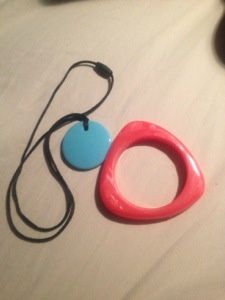 The designs are discreet and funky enough to be seen as just children's jewellery and D has been happily wearing them and – more importantly – using them.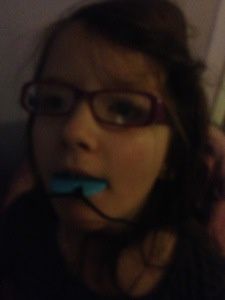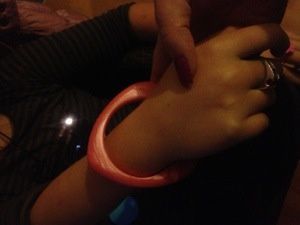 The pendants/bracelets are made of a non-odour silicone and will withstand up to an 80 hour chewing ratio and should obviously be discarded once there is visible damage. Very easily washed after each use.
The pendants also have a breakaway clasp but, due to the long cord, they are unsuitable for under 3 year olds. Chewigem's sister site Gumigem has necklaces that mum can wear and the toddler can chew.
This is the information from Chewigem's website:
"CHEWIGEMâ"¢ is welcomed by parents because the necklaces are….
CHEWIGEM â"¢ non toxic and therefore safe to chew
CHEWIGEM â"¢ hard wearing and tough (but not indestructible and will need to be replaced once damaged, the speed at which this happens will be faster with aggressive chewers – see FAQs for details on each pendant's durability). Please also note that children with fully developed teeth or aggressive biters may be able to damage a Chewigem, so adult supervision is recommended.
CHEWIGEMâ"¢ although not indestructible, more reassuring than chewing on unsuitable items that may contain toxins, be damaging to teeth or are expensive, such as school uniforms and books.
CHEWIGEM â"¢ stylish, discreet and available in a wide range of shapes and colours
CHEWIGEM â"¢ washable in a steriliser, dishwasher or just hot soapy water.
CHEWIGEM â"¢ fitted with a breakaway clasp as an added safety measure
CHEWIGEM â"¢ come on a long cord which can be cut and adjusted to suit your child (cord & clasp is not for chewing)
CHEWIGEM â"¢ not made of hard beads, reducing any risk of wear and damage of the teeth
CHEWIGEM â"¢ priced in line with most high street necklaces despite the high quality of the materials
CHEWIGEM â"¢ is a family run business
++warning – not suitable for children under 36 months due to long cord – stangulation hazard++"
D has been wearing the bracelet to school and she told her teacher "I'm wearing this to stop me feeling worried".
Prices start at £12.50 for a necklace, £8.50 for a bangle.
Disclaimer:
I was sent a necklace and bangle to review. I have not been paid for this post and these are my words and review.
Thanks for reading.
---
---