This is a guest post by my 10-year old T, he absolutely loves reading and this is a book we bought at the weekend for him. We haven't been sent this to review, T wanted to read and share his thoughts. I'm sure he'd love feedback!
Over to T:
Astrosaurs- The castle of Frankensaur
Author: Steve Cole
Books written in the series: 22
When Teggs (orange-brown stegosaurus) and his crew discover a two-headed dinosaur criminal floating nearby in space, Teggs, Gipsy (a stripy hadrosaur), Arx (agreen triceratops) and Iggy (an iguanodon) follow the creepy space robbers. But the carnivore criminals lead Teggs and his crew to an asteroid called Zeta Three, which beholds a creepy, black castle in the distance, owned by super scientist Dr Frankensaur! But when the Astrosaurs discover that evil carnivore professor, Hydra, is causing trouble inside the castle, Teggs and co are then plunged into a sinister mystery where headless horrors, mutant monsters and creepy cohorts lie in wait. But when the herbivore heroes find out that professor Hydra is controlling Dr Frankensaur, and the fact that Hydra is creating a cunning cohort, the Astrosaurs will need all the luck they need……
My review
I enjoyed this book because of the fact that the Astrosaurs were plunged into a intense mystery and that I didn't know what was going to happen next. I would recommend this gripping book to people over eight years old because of the age group on the back of the book.
About the author
One of my favourite authors, Steve Cole, has written over four series' in his writing career. They're Astrosaurs, Astrosaurs academy, Slime squad and Cows in Action. He's written over 60 books, imagine how much writing he does!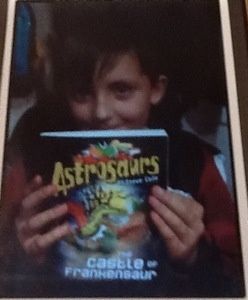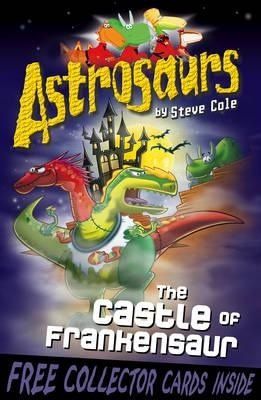 Thanks for reading Jx 😘 comments/RTs/shares welcomed.
T was overjoyed to learn that Steve Cole had read and RTd his review and sent the following:
@SteveColeBooks: @AutismMumma Thank you so much for forwarding such a lovely review! All best to you all.
---
---