Thank you for the messages following last night's blog, we both really appreciate them.
I decided to join in with "bookworm Wednesday" today – I obviously don't have enough to do lol! You can read my first post here or scroll down. Circumstances might mean I don't join in every Wednesday but it's a bit of fun and a chance to remember books I've enjoyed.
Our day anyway:
D was mega excited today because there was a "Christmas Shopping Morning" at school today and "Santa Claus" would be there.
She kept saying before school that she would need money for Santa and when I said she'd have to remind me, she said "I won't remember, you'll have to remind yourself" – thanks D!
Because there was the shopping morning etc, she went off very happily (with her money), having told me to meet her there.
When I got there she was with her class, looking nervous (it was quite busy) and sticking close to her teacher. She'd forgotten I was going to be there (I'd only left her 45 minutes before) and she greeted me with surprise! She was very happy to spend some of her money, luckily everything was very clearly marked in £/50p increments so she didn't get stressed about the right money/change etc.
There were "mum and dad" gift stalls and she didn't want to go with her teacher and look and said "you use the money Mumma and buy what you like!". The spirit of giving and receiving seems to be lost on D at the moment, it will come I'm sure, just pleased she's understanding what Christmas means (both biblical and commercial) and getting excited about it.
I left as the class were heading off to see "Santa" – real progress as she was always scared of him.
It was a happy D I collected at the end of the day too, her present from "Santa" had been a mask-painting kit which she did virtually as soon as we got home: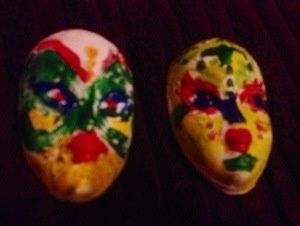 T has been alternating between telling his sister that the Santa she saw was not real (hmmm, big brothers) and giggling over his David Walliams book. Bless him, he means well but has to say things as he sees them, there is no sugar-coating.
So, that's our day – well, the living with autism bit. I hope everyone's had a good day, comments/RTs/shares as ever welcomed, thanks for reading Jx 😘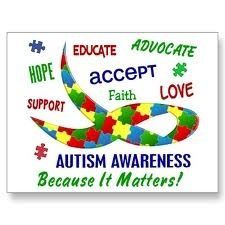 ---
---