D slept a lot better last night, which was a relief.
If you've seen my Silent Sunday today, you'll be aware that people in hospital (in particular a family member) are on my mind. Things like Christmas prep take a back burner (it's a month away btw!).
We've only told D the very basic information and I asked her to make a get well card today. She loved doing the drawing but the writing – literally "get well soon, love D" – was such a difficult task for her. It must have taken an hour, and that was with continuous "this is boring, this is difficult" from D. I can't imagine how she feels every Monday morning in class, knowing that it's "news time" and she has to do more writing. It certainly explains the Monday morning anxieties.
By complete contrast, I also asked her to draw Hubbie a funny picture to cheer him up and within two minutes: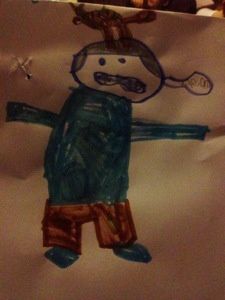 This is Hubbie with a cat on his head, saying aaargh!
We have her statement review meeting next week so I'll be asking them about the handwriting issue and what can be done. She doesn't enjoy it at all.
The rest of the day has been a sensitive one, one moment D will be laughing away, the next she'll be furious at the slightest thing that anyone else would just brush off.
There was a funny moment earlier:
D was having some Skips crisps (urgh) and she said "they're the ones that tinkle on your tongue" – means tingle. I hope they don't! I'm so proud of her independent reading but that was very funny.
Bless her, it's never ever boring with D around. Exhausting, frustrating, tiring at times, mix in rewarding, lovely and proud and there you have it. Autism.
I hope everyone's had a good day, comments/RTs/shares as ever welcomed, thanks for reading Jx 😘
---
---