As readers of my blog posts will be aware, a school run with D is never just a school run. There are leaves and flowers to admire. Stones to pick up and random friendly cats to stroke.
I knew that I couldn't rely on D to remember to wash her hands as soon as she got to school – especially if anxieties were kicking in – and would always carry a packet of baby wipes with us and attempt to discreetly wipe her hands before she went in.
Not any more, thanks to: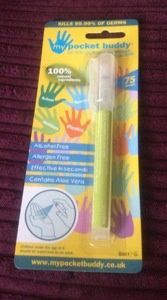 This is the information from the website:
"My Pocket Buddy® on-the-go hand sanitiser has been scientifically formulated to kill 99.99% of germs, whilst still being kind to your hands. Our product range includes an 8ml pen spray for children, a 50ml foamer for adults, and a 500ml foaming dispenser, ideal for the home, nursery, or your place of work.
Not only is My Pocket Buddy® alcohol free and made from 100% natural ingredients, it's effective in seconds, helping reduce germs, bacteria, viruses and fungi on the skin. There are no chemical nasties in any of our products, ensuring safe protection for your hands, and giving you peace of mind that your loved ones are protected too.
It dries super-fast without leaving behind a sticky residue, and with the purest of natural ingredients such as Aloe Vera, your hands will be left feeling totally refreshed and naturally moisturised."
The 8ml sanitising pen spray we were sent to try fits very nicely into a coat pocket/handbag/pencil case. Its size means it can be used quickly and discretely (as well as a pen spray, there are also 50ml and 500ml foamers, available from their website).
The benefits for us were its non-sticky residue and no smell. Having a child with sensory issues, it was important that there was no smell, no stinging sensation when applied and no residue. Both of my children (and myself) have extremely sensitive skin and we've experienced no adverse reactions, the additional Aloe Vera ingredient moisturises dry hands too.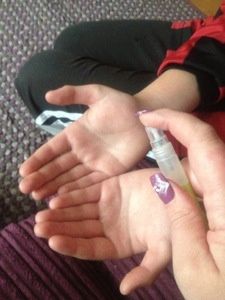 A recommendation from us and with prices starting at £0.96 for the pen spray, it's something we'll be buying.
Disclaimer: I was sent a pen spray for the purposes of this review. I have not received any additional payment and my comments are my own.
---
---