Now, this post was going to have a very different title, instead I'm going to use a sub-title, because the afternoon was an awful lot better than the morning.
D and I went to Central London today, obviously this was taking her way out of normal comfort zones and before you think "cruel, on a Saturday in the run-up to Christmas", there was a good reason (and I had discussed it with her, including routes etc).
We were selected by Mumsnet to attend a "Book of Spells" event – the Harry Potter-inspired PS3 Move game. T was still feeling poorly so he had a day with Hubbie, doing football-related stuff.
And here's my sub-title:
Paralympic legacy? pah!
From our experiences this morning, there isn't one. Not at least as far as National Rail are concerned. Both at my local station (which had had the posters advertising the connections to Eton Dorney) and the main London station (Paddington)…big fail.
Yes, our station has lifts to the platform but, on arriving at the platform to London, a guard pointed to D in her buggy and said "it's going to have to go in coach C". IT? IT? Yes, he was referring to my daughter in her buggy. The train pulled in and I don't know why he suggested coach C, the double steps up were very hard to negotiate with a buggy and in doing so, D dropped a toy (thankfully not Bunny) onto the track. People were pushing their way on behind us, so we couldn't get off, we had to stay on. We ended up in the corridor, in front of a toilet, D by now had silent tears running down her face.
Thank goodness for the "Robot Lab" app, which distracted her nicely while I phoned the station we were leaving. No chance of retrieving the toy until there were engineering works, no engineering works planned and with regard to the abysmal disability access onto the train, I got told that what did I expect as I was travelling at peak time (hello, we are not at Monday already or have I slept through the weekend) Charming!
Things didn't really improve at Paddington getting in and out of the Underground, no lifts and no staff around to help. All the while people pushing past us. There was a lovely lady who carried the buggy down the initial stairs and a fan-tas-tic gentlemen who carried the buggy down the very long stairs to the Bakerloo line, but the staff just looked the other way. A packed tube journey and two sets of stairs to negotiate and we were at Oxford Circus, I don't know if I've ever been so pleased to see cloudy daylight.
Rant over…
I'd allowed plenty of time so we followed the wonderful decorations down Regent Street – the twelve days of Christmas:

And looked in Hamleys, this is their Christmas window display: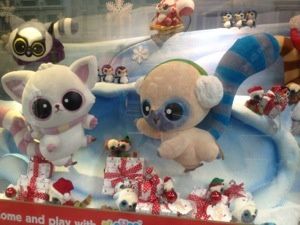 and D chose a ladybird fairy: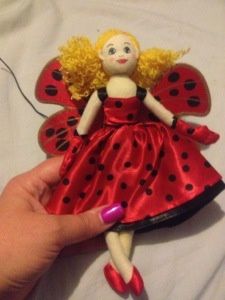 The demonstration at Sony was fab, it's a great, really interactive game and I'm looking forward to trialling it over the next week and writing a review. D very much enjoyed it.
At the end of our demonstration, the Sony chap (who I hadn't really told about our dire journey) said he'd like to order us a car – and I thought he meant back to Paddington – but he meant all the way home! His generosity overwhelmed me to be honest – it really was a journey of two halves – and we were taken all the way home in a black Mercedes…lovely.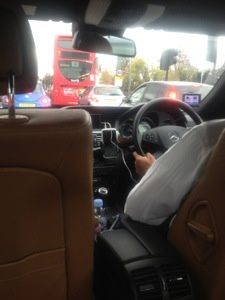 D played happily on Robot Lab again and I looked at the passing scenery, remembering how when I was a teenager I so wanted to live in Chiswick, it seemed so glamorous then.
Both very glad to arrive home and D's been happy to relax, read her "my animal farm" books and chat about her time at Sony – all very positive, which seemed to have out-weighed the awful journey up.
A quiet day in order tomorrow, fingers crossed.
I am incredibly proud of how D did today, from the disappointment of the toy to the bustle and push-push of the Underground, she did extremely well. It wouldn't have been possible without her buggy, her sanctuary.
So, that's our day. A day in which I've learned there are some very kind people around and some who could really do with an inclusion chat – disappointing with the Paralympics having been so recent.
Comments/RTs/shares as ever welcomed, thanks for reading. I hope everyone's had a good day Jx 😘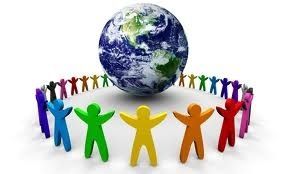 ---
---