There's been some brilliant suggestions and tips for Christmas with autistic children on twitter today. Instigated by @talkaboutautism, just type in #taachst to view.
Up until last Christmas D didn't understand the concept at all and was always more interested in the lovely wrapping paper and the boxes than the presents. She's always delighted when we have a big parcel delivery, the box is made into either a house for her or Bunny, dependent upon its size.
Last year, D became fixated by an advert for "La La Loopsy crazy hair dolls", it was lovely to see every time the advert played, she'd get so excited. I spent quite a while tracking down the two dolls she specifically wanted – part of me secretly pleased that my daughter finally wanted a doll to play with. The day came and well, poor lalaloopsy, she told me a while afterwards that the dolls weren't soft enough, too big and that she didn't know what to do with them 😔.
Lesson learnt, except this year the couple of things I want to buy for them both are unavailable. Apple have done their usual – release something brilliant and then stock is unavailable/restricted and the other thing – a ladybird cuddluppet – should be available in this country, but doesn't seem to be. Flair toys say "Argos stock them", Argos don't reply.
So, it looks like T and D will have to wait. I'm not (basically) wasting money on presents that they won't play with, if it means that we go into Apple a week after Christmas, so be it.
We try to keep Christmas just like any other day really – except for there's more chocolate around! – neither of them would each a Christmas lunch, so the grown-ups have that and T and D have their usual meals. Relative visits are spread out over a few days so that it's not too over-whelming and anxieties don't (hopefully) set in.
We count down to Christmas with advent calendars, an advent candle and a Christmas chalkboard which marks off the "sleeps" until Christmas.
D's little tree will be carried around no doubt everywhere between now and December 25th: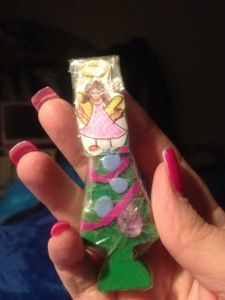 (That is the reinforced sticky-backed plastic version after yesterday's events).
The main thing is we'll be together and remembering the real meaning of Christmas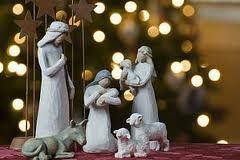 Thanks for reading Jx 😘
---
---