Music has always played a massive part in my life – it makes life colourful (that's a link to my previous post).
There are songs that make us very happy as a family – Firework by Katy Perry; there are mine and Hubbie's wedding reception and falling-in-love-to songs; there are songs that remind me of my first husband leaving me and prior to that, my two angel babies (I can't listen to any Enya songs, at all) and there are songs that I listen to on the way to picking up D.
This is my current favourite Live by Ultravox (I love the lyrics) and I put my ear-worms in (why are they called that, btw?) and stomp through the "deep dark wood" – as D calls it – to her school.
Such a relief to have a working phone again and my music back. Listening to the lyrics is almost like hearing someone's blog set to music, it's their perspectives on experiences, relationships etc and in a sing-along makes-you-happy format.
Can't be bad, can it?
So my motivation today is music and, of course, my lovely T and D, here's my favourite picture of them – which is a canvas is our living room – where has the time gone?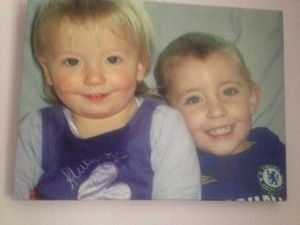 Thanks for reading Jx 😘
---
---